Home
THE ACCUSED WANT TO HAVE 'A CHRISTMAS HOLIDAY'
The defense teams of Ramush Haradinaj, Lahi Brahimaj, Jovica Stanisic, Franko Simatovic and Mico Stanisic filed their motions seeking provisional release for their clients during the Tribunal's winter recess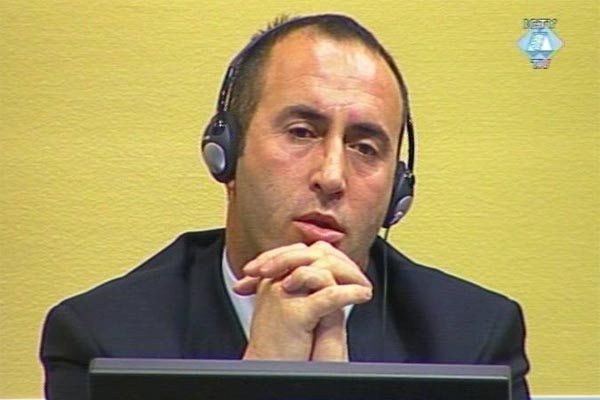 Ramush Haradinaj in the courtroom
Today Ramush Haradinaj's defense filed a motion to Judge Moloto's Trial Chamber to grant him provisional release from 17 December 2010 to 14 January 2011. Haradinaj would like to spend the one-month winter recess in Pristina with his family.
The motion was filed because of Haradinaj's wife is pregnant and the baby is due mid-January 2011. This means that Haradinaj's wife wouldn't be able to visit him in The Hague. The accused would also like to spend some time with his wife before, during and after the birth and to see his two children, aged four and six. Haradinaj hadn't seen his children since 20 July 2010, when he was arrested and transferred to The Hague immediately before the Appeals Chamber handed down its judgment reversing the trial judgment which acquitted Haradinaj.
As the defense noted, during his provisional release Haradinaj is not planning to travel outside Pristina or to take part in political activities and public life, and will abide by the terms of the provisional release set by the judges. In the annex to the motion, the EULEX Mission provided a letter guaranteeing that Haradinaj's release will be proceed in accordance with the Trial Chamber's orders.
The former KLA commander has filed a motion for provisional release in September this year. Haradinaj's motion was rejected: the Trial Chamber explained that the media attention during his stay in Kosovo would have a negative impact on 'an atmosphere already intimidating enough for the witnesses'. The judges have no reason to do the same this time, the defense argued, because the first motion sought provisional release pending trial and this time Haradinaj wants to be released only for a 'short period', one month.
In addition to Haradinaj, his co-accused Lahi Brahimaj has also filed motion for provisional release as well as the two former Serbian state security chiefs Jovica Stanisic and Franko Simatovic and former Bosnian Serb interior minister Mico Stanisic. The defense lawyers of other accused may well be preparing similar motions.
At the very end of her term of office in mid-December 2007, chief prosecutor Carla Del Ponte called for an end to the 'Christmas presents' for the accused, in the form of provisional release approved by the judges during the Tribunal's winter recess. 'Neither I nor the victims' could understand why so many of the accused got to spent their holidays free.