Home
DEFENSE WANTS NEW INDICTMENT AGAINST HARADINAJ ET AL. AMENDED
The defense lawyers representing Ramush Haradinaj and Idriz Balaj want the prosecution to amend the new indictment against their clients. In their view, the scope of the alleged joint criminal enterprise should be limited to the crimes in the KLA prison camp in Jablanica. Lahi Brahimaj's defense wants his name removed from two of the six counts in the indictment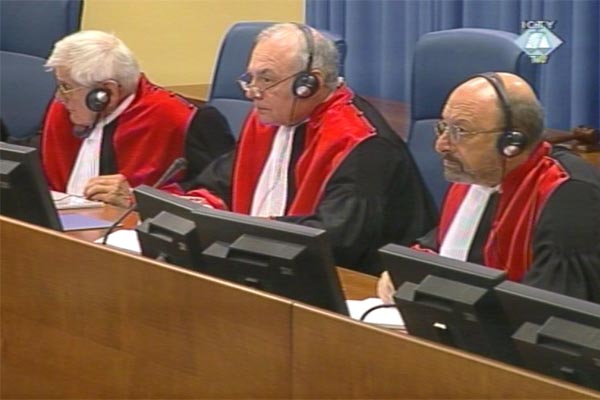 Trial chamber in the case of the former leaders of the Bosnian Croats
Ramush Haradinaj's defense urged the Trial Chamber to order the prosecution to rephrase or delete parts of the new indictment referring to the participation of the three accused in the joint criminal enterprise in Kosovo in 1998. The defense of Idriz Balaj filed a separate motion with an almost identical request.
In line with the appeal judgment ordering the partial re-trial of the three former KLA leaders, Haradinaj, Balaj and Brahimaj, the prosecution submitted a new indictment two weeks ago. The six counts in the new indictment allege the participation of the accused in the crimes committed in the KLA camp in Jablanica. The defense teams believe that the qualification of the joint criminal enterprise is too widely formulated and should be clearly limited only to Jablanica.
In the motion, Haradinaj's defense brought up a part of the draft indictment which says that the joint criminal enterprise 'included' the crimes in Jablanica; according to the defense, the prosecution has 'left open the possibility' that the enterprise was implemented in a broader area, in the whole of Kosovo. The defense has therefore asked that the prosecution restrict the existence of the joint criminal enterprise and the involvement of the three accused only to Jablanica, as instructed by the appeal judgment. At the same time, Haradinaj's defense wants to preclude any possibility that the prosecution might call new evidence not related to the crimes in Jablanica.
Lahi Brahimaj's defense is also unhappy with the draft indictment, asking that his name be deleted from counts 3 and 5 for crimes against some Kosovo Albanians in Jablanica. The defense contends that their client was already convicted for those crimes in the trial judgment, upheld by the Appeals Chamber. If the prosecution refuses to change the controversial counts in the new indictment, Brahimaj would be tried twice for the same crimes.
The Trial Chamber acquitted Haradinaj and Balaj of all charges in the 37 counts in the indictment. They were on trial for crimes against Albanians, Serbs and Roma in Kosovo in 1998. Lahi Brahimaj was sentenced to six years for torture and cruel treatment of prisoners in the Jablanica prison camp. The Appeals Chamber ordered a re-trial on six counts in the indictment for the crimes in Jablanica, ruling that the prosecution shouldn't have rested its case without examining the remaining two unwilling witnesses. One is former KLA member Shefqet Kabashi and the identity of the other witness, who was detained in the Jablanica camp, is protected. At the last status conference, presiding judge Bakone Moloto said the prosecution could call more than these two witnesses at the re-trial. However, it 'would be surprising' if the prosecution were to expand the indictment to cover crimes outside Jablanica, Judge Moloto warned.
According to latest estimates, the re-trial of the former KLA leaders might begin in first few months of 2011.