Home
HOW TO 'TAKE CARE' OF PRISONERS BEARA GOT 'RID OF'
Former civilian official in the Zvornik municipality testifies at the trial of General Zdravko Tolimir. The witness talked about a meeting where a VRS officer who introduced himself as Colonel Beara demanded that the municipal authorities 'assist' in the effort to take care of a large number of prisoners 'that should be got rid of'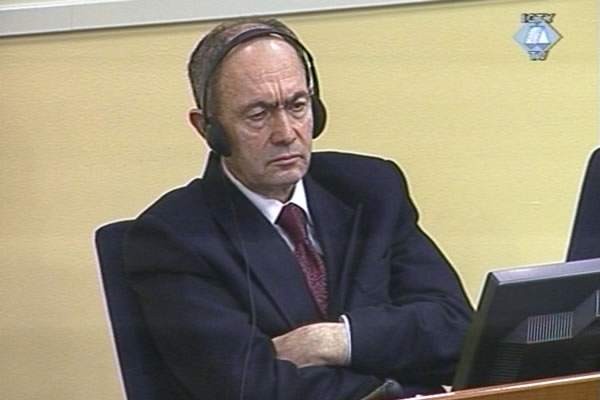 Zdravko Tolimir in the courtroom
Former municipal official from Zvornik is testifying under the pseudonym PW-065 at the trial of Zdravko Tolimir; his testimony today is virtually identical to the one he gave in March 2007, again with protective measures, at the trial of the seven Republika Srpska military and police officers. The Trial Chamber found them guilty of the crimes committed in Srebrenica and Zepa. The transcript of witness' previous testimony was tendered into evidence today at the trial of former Mladic's assistant for security, who is charged with crimes in Srebrenica and Zepa.
After the solemn oath the presiding judge warned the witness, just as he was warned in March 2007, that he could refuse to answer any questions that might incriminate him. However, as the presiding judge noted, if the Trial Chamber ordered the witness to respond, what he said couldn't be used against him in court.
In 1995, witness PW-065 was an official in the Zvornik municipality and had frequent contacts with the officers from the VRS Zvornik Brigade. The witness described how in mid-July 1995 – some days after the fall of Srebrenica – he was called to the Zvornik brigade headquarters. An officer was waiting for him in the office and introduced himself as Colonel Ljubisa Beara, chief of security in the Main Staff. The colonel then made a brief speech, saying that 'a large number of prisoners that are difficult to control and should be got rid of' were located in the Zvornik area. Beara demanded that the witness and the local authorities assist in the effort. As the witness said, he was surprised to hear an officer from the Main staff say something like that. Soon after the meeting, the witness drove to Montenegro for a holiday.
In his replies to the prosecutor, the witness was reluctant to specify how Beara thought they might 'get rid of' the prisoners and what kind of 'assistance' he sought from the municipal authorities. After the prosecutor repeated his question, the witness said that he had realized that prisoners would be 'executed' and that the municipal authorities were expected to assist with the 'burial of their bodies'.
In the cross-examination, the accused general put it to the witness that his conclusion was based on assumptions and speculation. As Tolimir put it, the witness reached this conclusion based on the 'rumors' about what had happened in the Zvornik municipality after he had left for his holiday. The witness confirmed that he had indeed learned about the events in the Zvornik area only after his return from Montenegro. The witness nevertheless remained adamant about the way in which the Zvornik authorities were supposed to assist the army in the effort to 'take care' of the Bosniak detainees that Colonel Beara 'had got rid of'.
The Trial Chamber sentenced Ljubisa Beara to life and his case is currently under appeal.