Home
IDENTIFICATION IN SREBRENICA COURT VIDEO
The OTP investigators were able to identify not only some of the perpetrators but also a number of the victims on the video footage of the events in Srebrenica in July 1995 shown as part of the compilation Srebrenica – court video. The video was shown at the trial of General Zdravko Tolimir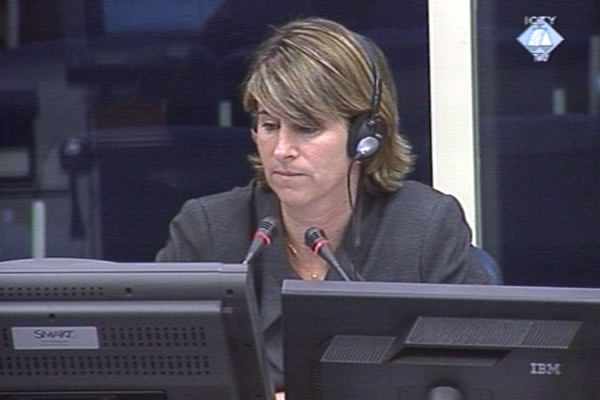 Erin Gallagher, witness at the Zdravko Tolimir trial
OTP investigator Erin Gallagher returned to the witness stand at the trial of Zdravko Tolimir, Mladic's former assistant for security in the VRS Main Staff. Gallagher is testifying about the procedure to identify persons in the videos shown during the prosecution's case.
Investigator Gallagher, who has been involved in the Srebrenica investigation since 2006, testified in late September 2010 about the way in which the video compilation entitled Srebrenica – court video was made. Apart from saying when and where the videos were recorded, Gallagher also identified locations, persons and items in the footage.
The photos of the Srebrenica refugees in Potocari on 13 July 1995 and in a field near the village of Sandici – where Bosnian Serb forces held the Bosniaks who had been captured or had surrendered – were shown to the family members of the persons reported missing after the enclave fell. The investigator collated the statements of the relatives and friends with other data gathered in the process of identification – such as personal effects, any post mortem reports, DNA samples and the description of the clothes the persons wore when they went missing.
Most of the persons identified in the footage didn't survive the fall of Srebrenica. Ibro Husenovic was among the few survivors. Gallagher confirmed that Husenovic identified himself in one of the videos. Through the evidence of the OTP investigator, the prosecution tried to provide additional evidence on the credibility and reliability of the video material.
General Tolimir, facing charges of genocide and other crimes in Srebrenica and Zepa, tried to contest the data on the identification of Srebrenica victims. The accused argues that in the identification process, the investigator relied on unreliable forensic findings about persons she was searching for.
Tolimir also contends that many of the names of the survivors from Srebrenica are also on the missing persons list, or at least were on the list for a long time. This served to increase artificially the number of victims, Tolimir maintains. Tolimir tried to corroborate his claim by noting that '205 names have recently been deleted from the missing persons list when it was established they were alive'. The investigator replied that although the lists changed as the new data came to light over the past 15 years, it was established that not a single person from the latest list updated in 2009 had survived.