Home
MLADIC'S DIARIES AT THE TOLIMIR TRIAL
An OTP investigator is testifying at the trial of Mladic's assistant commander for security Zdravko Tolimir about the authenticity of the diaries kept by the former VRS Main Staff commander and the way in which they were seized and handed to the prosecution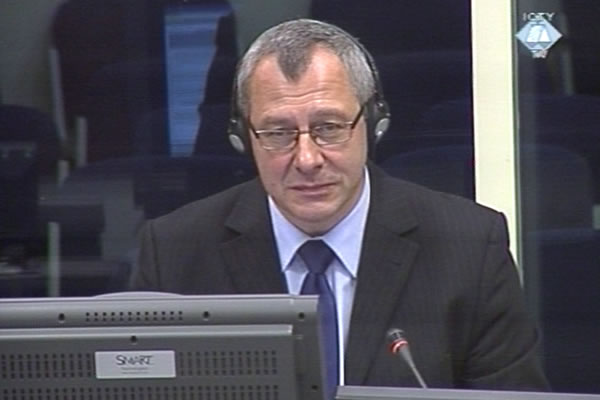 Tomasz Blaszczyk, witness at the Zdravko Tolimir trial
OTP investigator Tomasz Blaszczyk appeared once again at the trial of Zdravko Tolimir as a witness, this time to testify about General Ratko Mladic's diaries that had been added to the prosecution exhibit list. Blaszczyk testified about the way in which the OTP received this material, about the chain of custody of the diaries from their discovery in Belgrade to their transfer to the Tribunal, and about the authenticity of the seized documents.
As Blaszczyk explained, the Serbian MUP seized the first five notebooks and four video tapes during their search of the apartment used by Mladic's wife Bosiljka on 4 December 2008. The OTP first received only the scans of the diaries from the Serbian police. On 21 March 2009, the witness received the original notes in Belgrade and brought them to The Hague. Blaszczyk confirmed that he had sole custody of the material from the moment he received the material to the time he handed them over to the evidence unit.
The Serbian police found additional 17 notebooks, audio and video tapes and other documents during their search on 22 and 23 February 2010. The materials were handed over to an OTP official in Belgrade in April 2010. Blaszczyk then took custody of the materials and brought them to The Hague. In both cases the Serbian police inventoried the seized materials. Blaszczyk identified the signatures of Mladic's wife Bosiljka and son Darko on the inventory lists.
In an attempt to prove the authenticity of the seized diaries, the prosecutor compared video recordings showing Mladic writing down notes at various meetings with the actual notes he took. A video clip shows Mladic meeting with the representatives from Zepa on 13 July 1995 at Boskanica. Mladic's assistant for security in the Main Staff general Zdravko Tolimir attended the meeting.
The investigator confirmed that the contents of the video material matched the notes taken at the meeting in terms of the date and contents and was able to recognize the notebook Mladic used at the time when the original was shown today in court. The footage shows Mladic writing down notes in that notebook. The authenticity of Mladic's handwriting was confirmed by a written statement of Mladic's wartime deputy, General Manojlo Milovanovic, Blaszczyk said. Finally, a table tendered into evidence today, matched the entries from the diaries with other documents corroborating their contents.
General Tolimir wanted to postpone the cross-examination of investigator Blaszczyk because he has been able to go through 'only parts of this material I consider relevant for the indictment': Mladic's notes about the events in Srebrenica and Zepa in the summer of 1995. Tolimir is charged with genocide and other crimes in Srebrenica and Zepa in the summer of 1995.