Home
THE INVESTIGATION OF THE SREBRENICA VIDEOS MADE BY BELGRADE JOURNALIST
The prosecution continues its case at the trial of Zdravko Tolimir. OTP investigator Blaszczyk testified about the investigation of the video recordings made by Belgrade journalist Zoran Petrovic Pirocanac in the Srebrenica area in July 1995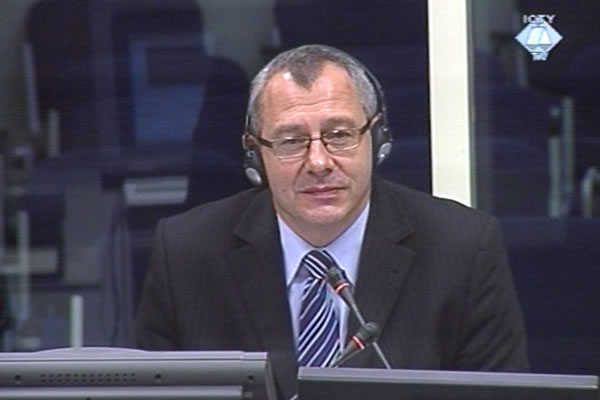 Tomasz Blaszczyk, witness at the Zdravko Tolimir trial
The prosecution continues calling evidence at the trial of General Zdravko Tolimir. Investigator Tomasz Blaszczyk gave evidence about the investigation of a video recording made by Zoran Petrovic Pirocanac, journalist from Belgrade in the Srebrenica area on 13 and 14 July 1995. Mladic's former assistant for security and intelligence in the VRS Main Staff is charged with genocide and other crimes in Srebrenica and Zepa in 1995.
Petrovic's video, shown at all previous Srebrenica trials before the Tribunal, shows the events in Potocari, on a part of the road leading to Bratunac near the villages of Sandici and Lolici and in the Zeleni Jadar area two days after the Bosnian Serb forces entered Srebrenica and took over the enclave.
In 2006 and 2007, the investigator and an OTP photo and video technician, Zoran Lesic, revisited the sites in the Srebrenica area recorded on the video. The investigator took photos and determined their coordinates using GPS. The locations were then plotted onto the maps of the area and bound in a book together with the photos and freeze frames from Pirocanac's footage. The prosecution tendered the book into evidence today.
The prosecution first obtained the video in 2002 from the BBC. Later that year, Ljubomir Borovcanin, commander of the police forces in the Srebrenica operation, gave a VHS tape with same footage to the OTP. On 13 and 14 July 1995, Borovcanin acted as the host of the Belgrade journalist when he visited the enclave. Finally, the author himself, Zoran Petrovic Pirocanac, gave the prosecution the uncut footage in 2006, but none of those tapes, as Blaszczyk confirmed today, contained the parts broadcast on 17 July 1995 by Belgrade TV channel Studio B.
One of 'missing' parts was recorded in Potocari; Borovcanin drove Pirocanac there in the military vehicle. The Belgrade journalist recorded a group of prisoners on a terrace of the so-called White House. As alleged in the indictment, the men who had been separated from the women were detained there before they were taken to other locations and executed. This part of the footage was missing from the tape Pirocanac had given to the OTP. Instead of the captives in the White House, the tape shows a shell casing.
As the OTP investigator said, Zoran Petrovic explained that some parts of the original video were 'missing' because he 'lacked experience' working with his camera. As a result, he taped new footage over those parts. When the prosecutor asked if he found the explanation convincing, Blaszczyk replied he finds it hard to believe it: all the taped-over parts, such as the footage from Potocari, contained 'footage incriminating' the Bosnian Serb forces involved in the Srebrenica operation.
Tomasz Blaszczyk continues his evidence tomorrow.