Home
VICTIMS WERE SHOT DEAD, BUT NOT IN ARMED CONFLICT
Australian pathologist Christopher Lawrence is testifying at the trial of General Zdravko Tolimir. Lawrence headed the OTP forensic pathology team that conducted post mortems on the remains of 883 persons exhumed from mass graves in the Srebrenica area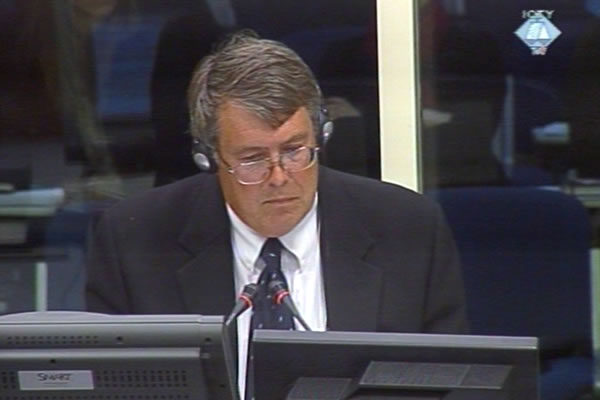 Christopher Lawrence, witness at the Zdravko Tolimir trial
From May to October 1998, Australian pathologist Dr. Christopher Lawrence headed the OTP forensic pathology team that conducted post mortems on the remains of victims exhumed from mass graves in Srebrenica.
In February 2007, Dr. Lawrence testified about this effort at the trial of the seven Bosnian Serb military and police officers later convicted for crimes in Srebrenica and Zepa in 1995. At the trial of Zdravko Tolimir, former security officer in the VRS Main Staff, the prosecution tendered into evidence the transcript of Dr. Lawrence's testimony at that trial. The prosecutor read out a brief summary from that statement in court.
Dr. Lawrence and his team performed post mortems on the remains of victims exhumed from the Brana mass grave near the village of Petkovci in the Zvornik area, and the remains recovered from seven secondary graves at Cacarski road, the Hodzici road, Liplje and Zeleni Jadar.
The Australian pathologist said that some of the bags in which the remains were brought to the morgue in Visoko contained whole bodies but, more often than not, there were only body parts. This made it more difficult to establish the cause and manner of death.
When Dr. Lawrence was shown photos, he recounted that the determination of the cause of death was made even more difficult by the fact that the bodies were 'in a very bad shape'. Soft tissue had mostly decomposed and it was hard to distinguish bone defects caused by bullets from those caused later, in most cases when the bodies were moved from primary to secondary graves. Dr. Lawrence concluded that most of persons whose remains he had examined 'died of gunshot wounds'.
After he examined the bodies of 883 people, Dr Lawrence concluded that in most cases, the victims were not soldiers and that they didn't die in combat. Based on several factors, Dr. Lawrence determined that they had been executed.
In the cross-examination, General Tolimir insisted that he didn't want to contest Dr. Lawrence's report, but wanted Dr. Lawrence to clarify the points Tolimir didn't understand in the report. He wanted to know how the Australian pathologist was able to tell which of the victims had been soldiers and which non-combatants.
Many of the bodies had ligatures on hands and had been blindfolded; post mortems revealed that many of the victims had been sick and elderly, or women and children. The only logical conclusion was that they couldn't have been involved in the fighting. The fact that their bodies had been hidden – transferred from primary to secondary graves – also pointed to the conclusion that they had not died in combat, Lawrence noted.
The trial of General Tolimir continues tomorrow.