Home
MILITARY PROPERTY: WHOM DID IT BELONG TO?
Testifying in defense of General Perisic, General Kadijevic claims that military equipment belonged to the federal government, not the Yugoslav Army, which could therefore not dispose of that property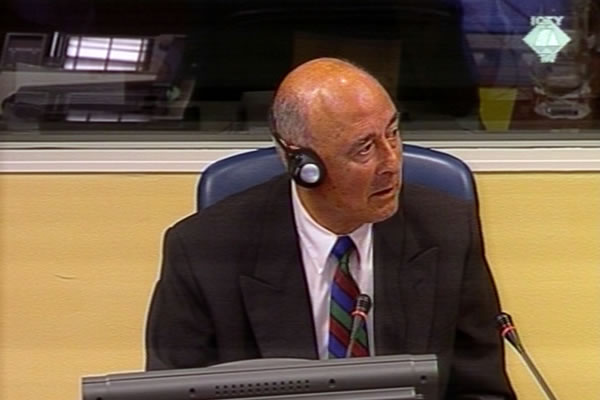 Radojica Kadijevic, defence witness of Momcilo Perisic
The trial of the former chief of the Yugoslav Army General Staff, Momcilo Perisic, continued today with the testimony of Radojica Kadijevic, former assistant defense minister in the FRY, in charge of military and economic activities. Kadijevic had previously served as the chief of the Administration for Research, Production and Development of Military Equipment in the federal defense ministry.
General Perisic is charged, as the former chief of the VJ General Staff, with providing logistic, personnel, financial and other support to the Serb armies in Bosnia and Krajina, whereby he contributed to their crimes in Sarajevo, Zagreb and Srebrenica, as the prosecution alleges. Kadijevic claims that the military equipment belonged to the federal government; only it could decide how to dispose of it. The Yugoslav Army did not have the right to dispose of the property, the witness said.
The defense lawyer showed the witness two bills of lading from the Krusik defense industry plant in Valjevo; the consignment went to the VRS Drina Corps headquarters in Vlasenica. According to Kadijevic, the documents show that neither the Yugoslav Army nor the Ministry of Defense had 'any specific role in the transaction'. According to a document showed next, from March 1994, the chief of the Technical Service asked the VRS Main Staff to organize the repairs of tanks in the Hadzici repairs facility in Republika Srpska, through the Republika Srpska Ministry of Defense, or, failing that, to have the tanks repaired in the Cacak repairs facility in the FRY. As the witness said, 'the VJ 'did not in any case take part nor could it take part in the activities' that pertain to the relationship between various bodies in RS.
Kadijevic also claims that the Yugoslav Army did not participate 'in any way whatsoever' in the transaction involving the Serbian Ministry of Defense and the Vlasenica military post in Republika Srpska, which received a shipment of 40,000 bullets or in the delivery of bullets and hand grenades to the Drina Corps HQ from the Serbian Ministry of the Interior. According to the witness, the property and equipment 'did not belong to the VJ'.
General Kadijevic's testimony will continue tomorrow.