Home
'NEGATIVE EXPERIENCE' WITH GENERAL MLADIC
Sinisa Borovic, former chef de cabinet of the former chief of the VJ General Staff Momcilo Perisic, described his first encounter with General Mladic as 'a negative experience'. Mladic 'didn't listen' to Perisic and behaved 'as if he were senior', the witness recounted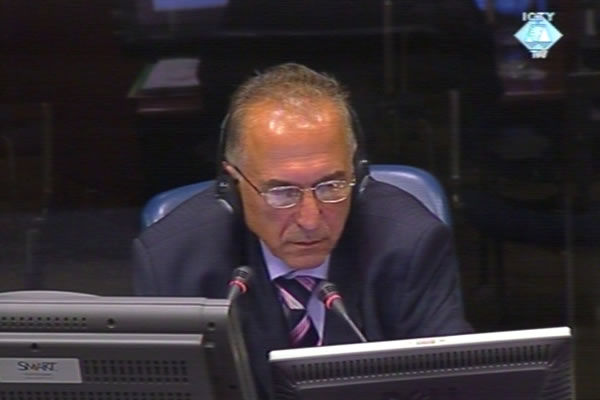 Sinisa Borovic, defence witness of Momcilo Perisic
The trial of former chief of the VJ General Staff Momcilo Perisic continued with the evidence of Perisic's
chef de cabinet
Sinisa Borovic. Borovic served in this post between November 1994 and September 1996.
Borovic confirmed that General Perisic met with FRY president Zoran Lilic and Serbian president Slobodan Milosevic. Lilic's attitude toward the VJ was 'fair; he had a lot of understanding for its problems', the witness said. On the other hand, Milosevic 'didn't trust the army as an institution' and relied a lot more on the police that was 'his police, the police of the Republic of Serbia'. As the witness said, Ratko Mladic's visits to General Perisic were 'rare and brief'. Borovic described his first meeting with General Mladic as 'a negative experience'; he spoke in details about it in closed session.
Borovic attended Perisic's meetings with high-ranking foreign officers, including French military officers, generals De La Presle and Janvier. According to the witness, they mostly asked for General Perisic's help: they wanted him to exert his influence on the VRS as the chief of the VJ General Staff. Perisic always said that he had 'no control over the situation' but would try to help with his 'personal influence, if there is any', the witness said.
The defense counsel then showed Borovic Perisic's letter to Russian defense minister Grachev from July 1994. In the letter, Perisic says that he is 'trying to convince his friend Ratko Mladic to use his authority and influence the Bosnian Serb leadership to accept the Contact Group plan'. Borovic contends that Mladic 'never listened to Perisic and behaved as if he were senior'.
In an effort to show Perisic's position vis-à-vis the conflict in RSK, the defense counsel reminded the witness of a meeting he had attended in Moscow in 1995. Russian foreign minister Kozyrev asked the Serb representatives three questions: whether it was possible to defend RSK, FRY's intentions in respect of the conflict in Krajina and the possibility to reach a peaceful solution. The minister got three explicit answers: that RSK 'cannot defend itself on its own', that the 'VJ will not get involved in the conflict in Krajina', and that 'there will be no agreement on the level of Krajina and Croatian leaderships', the witness explained. The Russian minister concluded after that that 'RSK will cease to exist'.
The trial of general Perisic continues tomorrow. He is charged with providing support to the Serb armies in Krajina and Bosnia; the prosecution alleges he thus contributed to their crimes in Sarajevo, Srebrenica and Zagreb.