Home
WAR AGAINST MLADIC'S 'VANITY'
According to witness Dragan Vuksic, former chief of the VJ General Staff Momcilo Perisic used his influence on Ratko Mladic to make him realize that the release of French pilots was not an 'issue of his vanity' but a problem which needed to be solved in order to achieve 'peace in the region'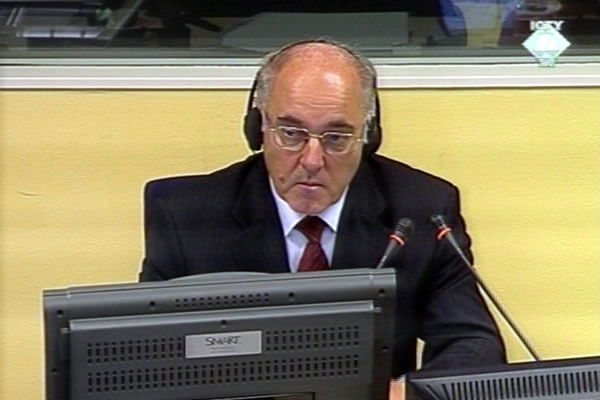 Dragan Vuksic, witness at the Momcilo Perisic trial
Former chief of the VJ Administration for International Military Cooperation Dragan Vuksic noted that in 1994 General Momcilo Perisic ordered measures to prevent uncontrolled flights over the border between FRY and Bosnia Herzegovina. The chief of the VJ General Staff issued an order to intensify radar reconnaissance of the terrain. Helicopters were prohibited from flying over the FRY border unless they were on humanitarian missions.
Vuksic went on to describe General Perisic's role in the crisis caused when the VRS captured two French pilots whose aircraft was shot down on 30 August 1995 over Pale. As Vuksic recounted, Perisic acted as a mediator first at the negotiations between the VRS Main Staff commander Ratko Mladic and UN peace-keeping force commander, General Janvier, on 1 September 1995. Perisic reprised the role on 11 December in the talks at the Batajnica airport near Belgrade with French general Jean-Philippe Douin.
According to the witness, it was very important to deal with the crisis because French president Jacques Chirac made the release of the French pilots a prerequisite for the signing of the Dayton agreement. Perisic felt that the arrival of General Douin should be given as much importance as possible and set up a welcome ceremony for him with full military honors. However, when the plane with the French delegation landed at the Batajnica military airport, it turned out that General Douin wanted to keep his visit unofficial, and he remained in his plane until the military band and the honor guard left. The general then got out of the plane but refused to meet Mladic because he was 'a war crime suspect'. After three hours, Perisic as a mediator convinced General Douin to meet Mladic.
In Vuksic's words, Perisic played a 'decisive' role in resolving the crisis. The accused general was able to influence Mladic and make him realize that 'his vanity' was not the most important issue. Perisic made Mladic realize that solving the problem with the French pilots was crucial to the 'peace in the region'. The French pilots were released the next day in Mali Zvornik.
As his examination-in chief drew to a close, Vuksic noted that Momcilo Perisic was dismissed in November 1998 after a speech in which he said that 'no state should be in conflict with entire world'. According to the witness, Perisic thus 'made a serious condemnation of the [Milosevic] regime'. Perisic was stripped off of his rank of lieutenant general. According to the witness, Perisic became a 'man with no past' and his pension was suspended.
Dragan Vuksic will continue his evidence tomorrow.