Home
HOW MLADIC HID FRENCH PILOTS
Petar Skrbic, Mladic's assistant in the VRS Main Staff, claims his commander met with Perisic and Lilic about the French pilots; Mladic at first claimed that 'he didn't know' anything about the French pilots, but then admitted he had 'played chess' with them. Milosevic sent 'frank and brazen messages' to the Bosnian Serb leadership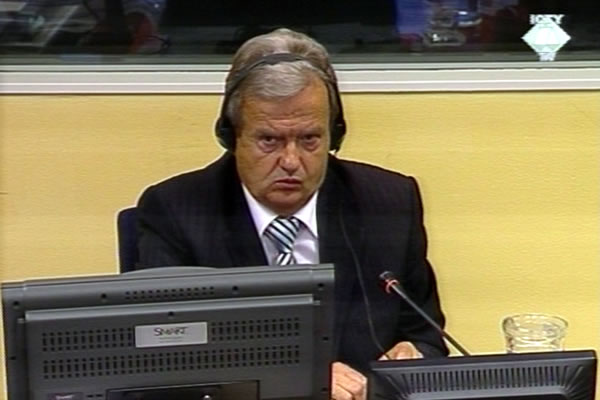 Petar Skrbic, witness at the Momcilo Perisic trial
Continuing his evidence at the trial of former chief of the VJ General Staff Momcilo Perisic, General Petar Skrbic described a meeting in Crna Rijeka on 12 August 1994. At the time Skrbic was assistant commander for organization, mobilization and personnel issues. The meeting was attended by Perisic, Mladic and other members of Mladic's collegium.
Skrbic said that he remembered the meeting 'not only because the weather was nice and sunny', but because of 'the frank and brazen political message' Slobodan Milosevic delivered to the Bosnian Serb leadership who had decided to call a referendum on the Contact Group peace plan. As Skrbic put it, he wondered how it was possible to leave the VRS 'alone, shut out and without anything', but he soon realized that Milosevic's 'threats and ultimatum' were serious.
After the meeting, sanctions were imposed on Republika Srpska. As the witness explained, the salaries for the officers through the 30th Personnel Center of the VJ General Staff were no longer paid. The verification of ranks in the VJ – used in calculating the salaries of the officers – also stopped.
Skrbic described a meeting in late 1995 when former Yugoslav president Zoran Lilic and General Perisic tried to negotiate the release of the captured French pilots with Mladic. Mladic at first claimed 'he didn't know anything about the pilots and didn't understand why Perisic and Lilic had come', Skrbic said. Mladic then admitted he had 'played chess with them' and then finally that "he held the pilots", the witness said.
Perisic and Lilic left the meeting for a while and Skrbic then advised Mladic to surrender the pilots to Yugoslavia, rather than to France or Russia. Yugoslavia needed 'to restore its image' in the eyes of the international community, the witness told Mladic, who in turn told the Belgrade representatives that they 'can count on getting the pilots' who, Mladic' guaranteed, were 'alive and well', Skrbic said. Skrbic continues his evidence tomorrow.