Home
'PROVISIONAL' SCHEDULE FOR THE SESELJ TRIAL
The remaining two witnesses of the Trial Chamber are expected to be called in the first half of July 2010. The parties will then await the Chamber's decision on the prosecution motion to admit parts of Mladic's diaries into evidence and the accused will then be allowed to submit his motion for acquittal at the half-time of the trial. Seselj has distanced himself from agent provocateur Zeljko Raznatovic Arkan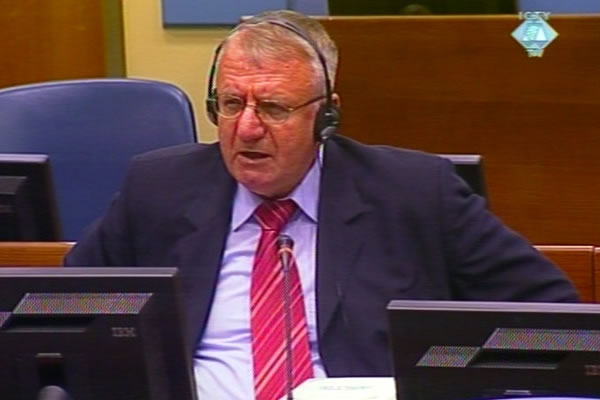 Vojislav Seselj in the courtroom
At the administrative hearing today at the trial of the Serbian Radical leader Vojislav Seselj, the parties discussed the future scheduling of the trial for crimes against non-Serbs in Croatia, Vojvodina and BH. The pace of the trial, it was indicated, will depend on the findings of medical experts, efforts of the Tribunal's translation service and whether or not the accused will decide to deliver his arguments on Rule 98
bis
, which makes it possible for the accused to ask for the acquittal on all counts in the indictment at the half-time of the trial.
Presiding judge Antonetti indicated that the Trial Chamber was waiting for the findings of the medical experts on the health of the two remaining witnesses the judges intended to call to The Hague. If the doctors decide that the witnesses are able to give evidence, they might testify on either 6 and 7 July or on 12 and 13 July 2010. The dates however remain to be confirmed.
According to a previous plan, the Rule 98
bis
hearing would be scheduled soon after the evidence of remaining witnesses. Judge Antonetti specified today that the hearing would be postponed to late August or early September 2010, because the Trial Chamber has yet to rule on the prosecution motion to admit into evidence parts of recently discovered diaries of Ratko Mladic, commander of the VRS Main Staff. The prosecution was granted leave to amend the list of documents it intended to admit from bar-table – without witnesses – with excerpts from Mladic's diaries by 16 July 2010. A full translation of 3,500 pages is still pending.
The accused said that he had heard from 'fellow convicts' who had gone through Mladic's diaries that his name was not mentioned. 'Seselj's men' are mentioned 'only twice or three times', in the context of locations not listed in the indictment. Seselj accused the prosecutor of raising the issue of Mladic's diary with the sole intent of prolonging the trial. The accused added that he 'was considering' not presenting any arguments on Rule 98
bis
, which is there to allow the accused to ask for acquittal at the half-time of the trial if they can prove that the prosecution has failed to present evidence which, if accepted by the Trial Chamber, would lead to a conviction.
Seselj today took the opportunity to complain before the judges that the prosecution had failed to disclose to him a document from January 1991. The document, Seselj claimed, clearly shows that he and the former Serbian Volunteer Guard commander Zeljko Raznatovic Arkan could not be participants in the same joint criminal enterprise, as alleged in the indictment. Seselj contends that the document is a report of the Serbian secret service stating that in 1989 Arkan was employed as an '
agent provocateur
' of the secret services of other republics in the former Yugoslavia. Arkan's task was to shout out 'inappropriate extremist slogans' at Slobodan Milosevic's rallies in order to compromise the 'Serb issue'. The prosecutor replied that all potentially exculpatory evidence had already been disclosed to him. However, the prosecutor promised to make all the checks about that report.