Home
SESELJ ONCE AGAIN REFUSED TO ENTER PLEA
Vojislav Seselj once again refused to enter his plea on the new contempt of court charges. The presiding judge then ordered that a plea of not guilty be recorded. The Serbian Radical leader is charged with publishing information that may lead to the identification of 11 protected witnesses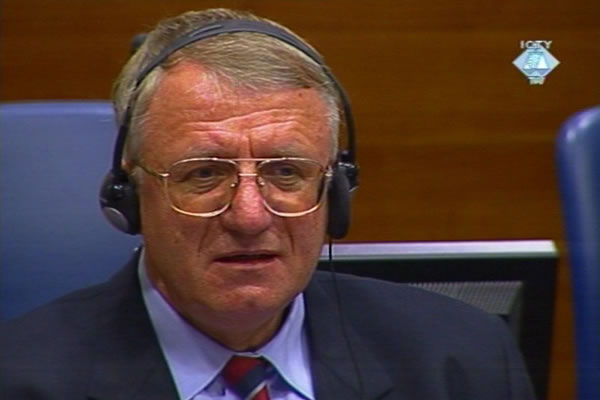 Vojislav Seselj in the courtroom
Serbian Radical leader Vojislav Seselj refused today once again to enter his plea on the single count in the new indictment charging him with contempt of court. The indictment alleges that in one of his books Seselj disclosed information that could lead to the identification of 11 protected prosecution witnesses. Pursuant to the Tribunal's rules, presiding judge Burton Hall recorded a plea of not guilty.
Seselj repeated the argument he set forth on 29 April 2010 when he used his right to postpone entering the plea. According to Seselj, the 'procedural requirements have not been met' as the prosecution has failed to disclose a number of supporting documents.
Prosecutor
amicus curiae
Bruce MacFarlane replied in his motion that the accused had enough information at his disposal, noting that under the Tribunal's rules it is not necessary that all the documents are disclosed to the accused before the plea hearing. The documents being disclosed now 'do not suggest that the accused is innocent, do not mitigate guilt and do not influence the credibility of the prosecution's evidence'.
The accused today said that the arguments provided by the Trial Chamber to support its decision to reject the prosecution's demand to put Seselj on trial for contempt of court are in fact 'most useful for the defense'. The Appeals Chamber later reversed the decision.
The trial date will be set later, after the decision on Seselj's motion to disqualify judges O-Gon Kwon and Kevin Parker is rendered. Both judges are members of the Special Chamber appointed to hear the contempt of court cases. Seselj demanded that the two judges be removed because of 'conflict of interest': he insulted them roundly in his books with vulgar and offensive titles after he was sentenced last year to 15 months for disclosing the identity of three protected prosecution witnesses.
Seselj's main trial for crimes against humanity in Vojvodina, Croatia and BH is expected to continue next week with the evidence of the Trial Chamber's last witness.