Home
A PANEL OF JUDGES FOR SESELJ
ICTY President Patrick Robinson is of the view that there is "no merit" in the motion filed by the Serbian Radical Party leader to disqualify judges Kwon and Parker from the Trial Chamber hearing Seselj's contempt of court case but he nevertheless named a panel of judges that will rule on the motion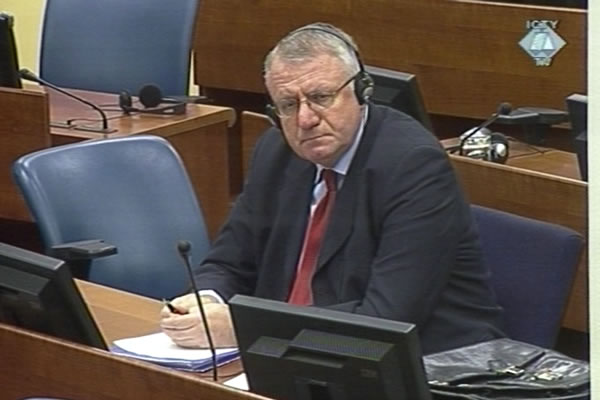 Vojislav Šešelj u sudnici Tribunala
The motion of the Serbian Radical Party leader Vojislav Seselj to disqualify judges Kwon and Parker from the chamber hearing Seselj's contempt of court case will be considered by a panel of three judges, ICTY President Patrick Robinson decided today. The panel will consist of German judge Christoph Flugge, Judge Howard Morrison from Great Britain and Belgian judge Guy Delvoie.
In April 2010, Seselj filed a motion to disqualify judges Kwon and Parker, arguing that in his previous contempt of court case they delivered 'an unjust and disproportionate sentence', 15 months in prison, for disclosing the identity and evidence of three protected prosecution witnesses. In his motion, the accused noted that the two judges were in 'a conflict of interest': in the meantime Seselj published two books about the two judges, under vulgar and offensive titles. In Seselj's view, this would surely cause 'even more partiality and a desire for revenge' in the two judges. Seselj believed this 'most likely contributed' to the second contempt of court charges against him. According to the new contempt of court indictment, Seselj divulged information which could disclose the identity of 11 protected witnesses.
In a memorandum of 9 June 2010, judges Kwon and Parker stated that they 'do not consider it necessary or appropriate' to withdraw from the Trial Chamber hearing Seselj's case. The judges highlighted the fact that they 'didn't read and do not intend to read' the books the accused wrote about them.
In his decision, the ICTY president Robinson said that he is of the view that there is "no merit" in the Seselj's motion, but in line with the Tribunal's rules, he left it to the three-judge panel to decide on the disqualification of judges Kwon and Parker.
Seselj's 'main' trial for crimes against non-Serbs in Croatia, Vojvodina and BH should continue at some point. The last two witnesses of the Trial Chamber remain to be examined in the first half of July 2010.