Home
ECONOMIC EMIGRATION OR ETHNIC CLEANSING
According to the notes taken by British war reporter Ian Traynor, Stojan Zupljanin called the departure of Muslims and Croats 'economic emigration' and not ethnic cleansing. Zupljanin noted that non-Serbs gladly left Bosnia and Herzegovina because they were treated so well in European countries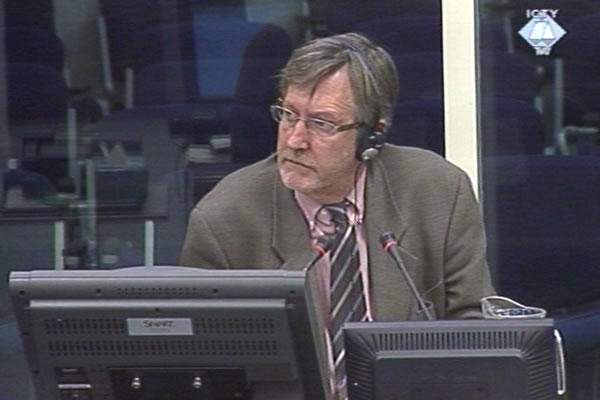 Ian Traynor, witness at the Mico Stanisic and Stojan Zupljanin trial
Ian Traynor, journalist writing for the British newspaper
Guardian
, started his evidence today at the trial of former Bosnian Serb police officials Mico Stanisic and Stojan Zupljanin.
From 1989 to 1996, Traynor covered the crisis and conflicts in the former Yugoslavia. The prosecution tendered the newspaper articles the witness wrote, published in the
Guardian
in 1992, the period relevant for the indictment, into evidence. Prosecutor Pidwell asked Traynor to read the notes he took in September 1992 during his two-hour interview with Stojan Zupljanin, who headed the Security Services Center in Banja Luka.
According to Traynor's notes, in his interview Zupljanin called the mass departure of Croats and Muslims from BH 'economic emigration' and not 'ethnic cleansing'. As Zupljanin put it, the European countries offered them room in hotels and refugee centers and well-paid jobs. The Serb side, Zupljanin went on, made sure that those who departed were provided with 'transportation in conditions that respected their dignity' and the police escorted the 'emigrant' convoys. Zupljanin maintained that Trnopolje was not a prison camp but a collection center where civilians 'gathered voluntarily', seeking shelter from the fighting. According to Zupljanin, civilians could leave the camp at any time.
During the interview with the British journalist, Zupljanin confirmed that he was aware of the incident at the Koricanske Stijene on the Mount Vlasic. The indictment alleges that more than 200 Bosniaks were killed in August 1992 there. Zupljanin assured Traynor that the police would investigate the incident, claiming there were about 50 and not 200 victims. Zupljanin also implied that members of the HVO or the Muslim Green Berets could be to blame.
In the examination-in chief, the prosecutor showed the British journalist the footage made by the American TV network ABC, where the survivors of the incident on Koricanske Stijene say who committed the crime and how. The recording also shows Zupljanin saying that the police would investigate the crime but that there 'are no witnesses who could confirm' what exactly happened.
The defense of Mico Stanisic, the first interior minister in the Pale government, didn't have any questions for the witness. Stojan Zupljanin's lawyers asked to be allowed to postpone their cross-examination of the witness until tomorrow to be able to study Traynor's notes and consult with their client.