Home
NEW 'RECOLECTIONS' OF MOMCILO MANDIC
Beginning his evidence at the trial of the former Bosnian Serb police leaders, the first justice minister in the Pale government Momcilo Mandic amended his testimony from the Krajisnik trial: he no longer claims Mico Stanisic ordered him to send a dispatch setting up a separate Serb MUP. In the meantime, Mandic said, he 'remembered' that somebody else had ordered him to do that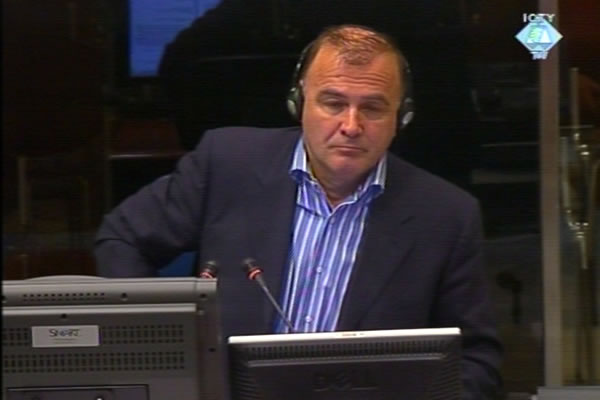 Momcilo Mandic, witness at the Mico Stanisic and Stojan Zupljanin trial
Former Republika Srpska justice minister Momcilo Mandic started his evidence as a prosecution witness at the trial of Mico Stanisic and former chief of the Security Services Center Stojan Zupljanin. Mico Stanisic served with Mandic in the Pale cabinet as the first interior minister.
Mandic confirmed today that he had known Stanisic since the time they attended police academy together. When the Serb MUP was established on 1 April 1992, Mandic served as Stanisic's deputy for twenty days and was then appointed justice minister.
In March 2010, Mandic spent a week in The Hague for the proofing with the prosecution and the defense teams. After those sessions, Mandic decided to change some parts of his evidence from the trial of Momcilo Krajisnik in late 2004 and some things he told the OTP investigators. After talking to the defense lawyers, Mandic 'gave the matters some thought and remembered' that he was not ordered by Mico Stanisic to send a dispatch setting up a separate Serb MUP, independent of the republican MUP, on 31 March 1992 as he had stated earlier. Mandic recollected that in fact he was ordered to do so by the minister of information Velibor Ostojic. At the time Stanisic was on holidays, Mandic noted. Today Mandic said that elements of the SDS and Mirsad Srebrenkovic were to blame for breaking up the republican MUP. As an SDA member, Srebrenkovic was appointed head of the MUP personnel department in late 1991.
Mandic now amended his earlier statement that the police could remand persons in custody for up to 30 days, claiming it must have been a 'linguistic error'. Under the law, the police could detain persons only for 72 hours, Mandic explained.
The prosecutor showed the witness the minutes of the Bosnian Serb Assembly sessions held immediately before the conflict broke out. The minutes record some delegates as saying the co-existence with Muslims and Croats was impossible, calling them 'natural enemies'. The witness said that it was 'garden-variety Serbs blathering' he had been 'listening to from early 1990's to late 2000's'. Those who wanted to 'curry favor' with the SDS leadership and Radovan Karadzic spoke like that, the witness added.
Momcilo Mandic will continue his evidence tomorrow.