Home
POLICE DIDN'T SEE 'BAD STUFF' IN THE OMARSKA PRISON CAMP
Former disciplinary prosecutor from the Public Security Station in Banja Luka says that the crime investigators from that station took part in interviewing the prisoners in the Omarska prison camp, but they were not in a position to see any 'bad stuff' because they 'were in the camp only in the morning and never left their offices'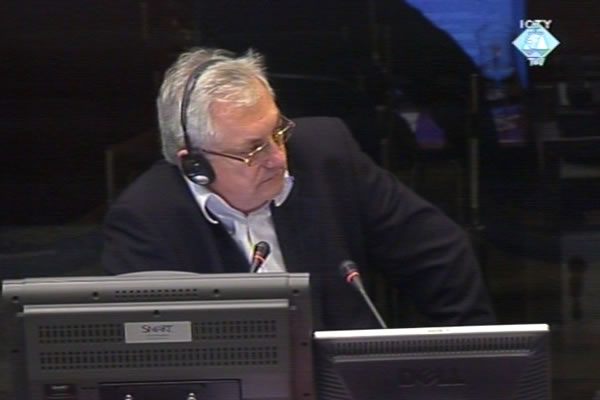 Radomir Rodic, witness at the Mico Stanisic and Stojan Zupljanin trial
Radomir Rodic, chief of the internal affairs inspectorate in the Republika Srpska MUP, spoke at the trial of Mico Stanisic and Stojan Zupljanin about the disciplinary proceedings against the police personnel. In the period relevant for the indictment, Rodic was the disciplinary prosecutor in the Banja Luka police.
All documents on disciplinary cases in 1992 were destroyed in 2006 according to the rules on archive maintenance. The document that was saved is a log book the prosecutor analyzed together with the witness. Rodic confirmed that a total of 27 disciplinary cases were instituted from April to December 1992. Seventeen cases were instituted against ethnic Serbs. Most of the cases involved violations of work duty such as unauthorised absence from work, arrogant behavior, one instance of theft of 15 kilos of coffee and two murders. Although the indictment lists a number of crimes against Croats and Muslims committed by the police in 1992, the log book lists only local Serbs as victims.
The witness confirmed that the crime police from the Banja Luka SJB took part in interviewing prisoners in the Omarska prison camp. However, the witness noted that they were not in a position to see any 'bad stuff' because they 'were in the camp only in the morning and never left their offices'. Rodic went on to explain that he 'heard' of a mass murder at Koricanske Stijene committed by the police from Prijedor, but was unable to remember when or where he learned of that crime.
The defense counsel of the former RS interior minister Mico Stanisic in his cross-examination noted that the evidence concerning disciplinary procedure referred only to the regular police. When crimes were committed by the reserve police, they were automatically dismissed from the police. Rodic confirmed this, stressing, however, that he did not know if the policemen who committed crimes while they were subordinated to the army were prosecuted by the military justice system; this is part of the defense case, put to the witness by the lawyer.
Defense lawyer Zecevic noted that the amendments of the Rules on Disciplinary Responsibility in Wartime, signed in September 1992 by the minister, introduced a new crime, expression of racial, religious or ethnic hatred, the statute of limitations for disciplinary proceedings was extended and every police officer was given the right to institute disciplinary proceedings. According to the defense, the purpose of those changes was to 'leave no violation of work duty unpunished'. The witness agreed with the argument. The defense of the second accused Stojan Zupljanin will complete the cross-examination of the witness on Monday.