Home
'MASTERS OF LIFE AND DEATH' IN BANJA LUKA
Former inspector of the Republika Srpska State Security says that in early April 1992 members of an armed formation called the Serbian Defense Forces were 'masters of life and death' in Banja Luka. Apart from 'terrorizing' the population, they appointed officials loyal to the Serbian Democratic Party to various top posts in the civilian and military institutions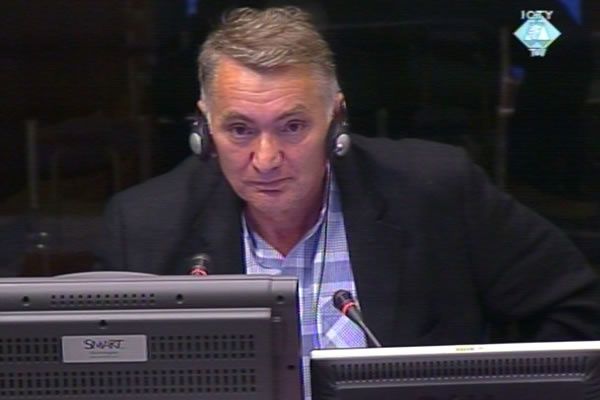 Predrag Radulovic, witness at the Mico Stanisic and Stojan Zupljanin trial
Predrag Radulovic, lawyer from Banja Luka, began his evidence at the trial of former Bosnian Serb police officials Mico Stanisic and Stojan Zupljanin. In 1992, Radulovic worked as inspector in the State Security Service (SDB) in the Security Services Center in Banja Luka.
Radulovic was called to testify by the prosecution. At the beginning of his evidence, he said that after his first contact with the OTP investigators, Stojan Zupljanin called him on the phone from the UN Detention Unit in Scheveningen, offering him either a job in the defense team or to testify as a defense witness. Radulovic refused, saying 'First come, first served'.
Before addressing the situation in Banja Luka, Radulovic said that in 1992, he was charged with 'spreading brotherhood and unity in Republika Srpska' which 'hampered the combat spirit in the Serbian army'. The proceedings took 10 years.
In 1992, Radulovic headed a team of the State Security Service operatives; they signed their reports with codenames Milos, Sigma and Colonel. The reports were sent not only to the relevant officers in the Republika Srpska MUP, but also to the Serbian SDB. Most of the reports shown today in the courtroom pertain to the group called the Serbian Defense Forces (SOS). In early April 1992, the SOS took over all the major institutions in Banja Luka, blocked access routes to the town and set up their check-points. According to the witness, the unit members were 'masters of life and death' and instilled fear in the population. Radulovic added that the Serbian Defense Forces were staffed by 'local criminals with big fat criminal records'.
In a SDB report from April 1992, the SOS are described as an 'armed formation of the Serbian Democratic Party' which is exerting pressure on the military and civilian authorities to appoint people loyal to the party to top posts. According to Radulovic, those people did not have 'either professional or moral qualifications' for those jobs. According to the police intelligence, the SOS leader Ljuban Ecim was very close with Radovan Karadzic.
The witness claims the police had enough resources to prevent the unit from operating but did nothing. Quite the contrary, the SOS members were officially made part of the Security Services Center in Banja Luka as an element of the special purpose unit. When Radulovic complained, Zupljanin told him they were 'Serb knights'. Radulovic maintains that the SOS continued committing crimes as part of the police force, especially when they operated outside Banja Luka – in Doboj and Sanski Most.
The insider from the Banja Luka state security service continues his evidence tomorrow.