Home
DEFENSE WITNESS FORCED TO DEFEND HIMSELF
The prosecution showed the witness at the trial of police general Vlastimir Djordjevic several documents in which witnesses accuse him of taking part in the expulsions and physical abuse of Kosovo Albanians in 1998 and 1999. Former police chief in Decani Vukmir Mircic said that it was 'a fabrication' to defame the MUP and the Serbian state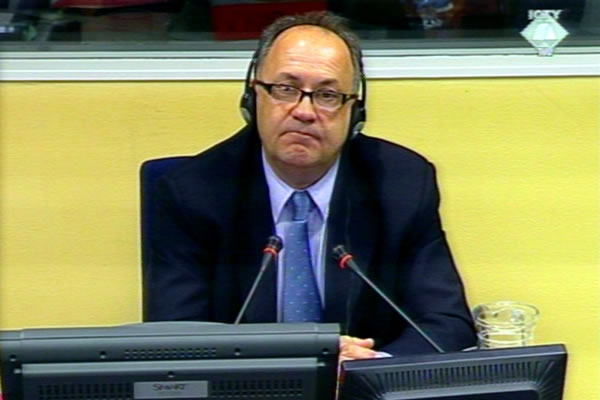 Vukmir Mircic, defence witness of Vlastimir Djordjevic
In his testimony in the defense of police general Vlastimir Djordjevic, former police chief in Decani Vukmir Mircic denied yesterday the allegations in the indictment that Albanian civilians were beaten up and expelled from Kosovo in 1999. Today in Mircic's cross-examination, prosecutor Kravetz tried to prove not only that there were crimes but also that the witness took part in them.
Several Albanian witnesses stated during the prosecution case that in late March 1999 they were expelled with a large group of refugees gathered in the village of Beleg near Decani. They were first forced to go to the village of Istinic and then to the Albanian border. Protected witness with pseudonym K-58 said that the police entered the village of Beleg on 28 March 1999. Men were robbed and several women were sexually abused during the night. Early next morning, they were told to go towards Istinic. The witness claimed that she recognized a commander from Decani known to her as Vule among the policemen.
Mahmet Mazrekaj, a teacher from the village of Drenovac, took shelter in the village of Istinic in late March 1999. Mazrekaj contended that Vukmir Mircic was the leader of the police officers who expelled the Albanian civilians from the village on 1 April 1999. Mazrekaj explained that Vule told the villagers' representatives that civilians 'had 30 minutes' to leave and head for the Albanian border.
Mircic dismissed all the claims put forth by the prosecution witnesses. In Mircic's words, they are 'fabrications' and 'false evidence'. Mircic added that among the Albanians it was 'common practice to harm people they knew'.
Former police chief in Decani is mentioned in a report drafted by the OSCE, entitled As Seen As Told, and in an article published in the Belgrade magazine NIN. The two documents say that Mircic was present when Albanians were tortured in detention in 1998 and 1999. Also, Mircic is said to have been present in front of the Decani police building when young Albanian men were taken out from the refugee column and beaten up. The witness replied that the OSCE mission members in Kosovo were 'biased' and favored the Albanian side. According to the witness, Belgrade lawyer Natasa Kandic was behind the article in the NIN and she was 'on the side of the KLA'.
The witness was confronted with the fact that Albanian civilians from various villages in the Decani area, as well as the international and Serbian sources identify him as a participant in the Kosovo crimes. 'All of them had the same goal, to defame the MUP and the whole Serbian state through me', the witness said. Concluding his appearance in court today, Mircic said he was innocent. He has never been prosecuted in Serbia for Kosovo crimes, Mircic argued.