Home
SERBIAN JUDICIARY'S INVESTIGATIONS
Former investigating judge from Pristina Danica Marinkovic gives evidence in the defense of police general Vlastimir Djordjevic. The defense lawyer examined Marinkovic about crime scene investigations involving the KLA and NATO attacks, about the way in which crimes were investigated under continental law and all manner of things, apart from the crimes General Vlastimir Djordjevic is charged with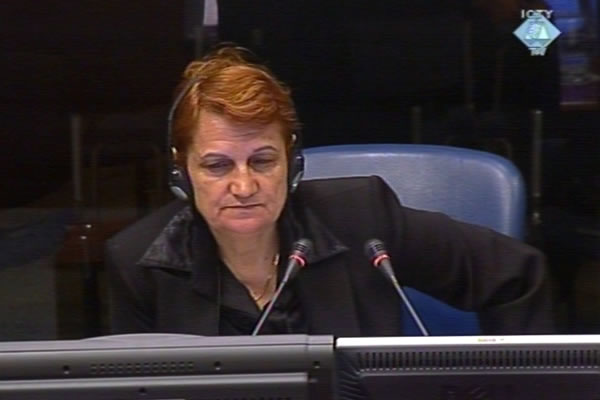 Danica Marinkovic, defence witness of Vlastimir Djordjevic
The defense of police general Vlastimir Djordjevic continued its case with the evidence of former investigating judge from Pristina, Danica Marinkovic. She has already testified twice for the defense, at the trial of former Serbian president Slobodan Milosevic and at the trial of the Kosovo Six, former Serbian officials charged with the same crimes as Djordjevic. Appearing now before the Tribunal for the third time, Marinkovic didn't provide much new information, although it was more detailed than ever.
The first half of the examination was devoted to a detailed exploration of the witness's CV, from the primary school, law school and bar exam to being appointed investigating judge in Pristina. The Trial Chamber was then given a 'lecture' on investigative procedure in the continental legal system. Defense counsel Dragoljub Djordjevic asked the witness to clarify, among other things, the difference between 'the appointment and election' of judges in Serbia and to compare various legal instruments in the federal and republic criminal law defining how investigations are to be carried out.
The witness was then examined about numerous crime scene reports she had drafted in Kosovo from late 1997 to mid-1999. The crime scene reports were tendered into evidence by the defense. The documents pertained primarily to KLA attacks on the police and civilians, and included a few NATO air strike incidents. The documents showed today did not relate to a single incident involving the murder and deportation of Kosovo Albanians. Djordjevic, who was the chief of the Public Security Department at the time, is charged with those crimes.
When Danica Marinkovic read the reports detailing about a dozen crime scene investigations, the presiding judge noted that she had already stated all that in the statement prepared for the Kosovo Six trial. The statement and the transcript of Marinkovic's evidence at that trial were admitted into evidence today. Judge Parker noted reading out documents was an unnecessary waste of court time. Also, 'there is the matter of the strength of the witness's voice': how long she could go on. Defense counsel Djordjevic 'agreed entirely' with the objection, and then proceeded in the same manner. The only difference was that the witness read out a little bit faster.
Commenting on some of the crime scene reports, Judge Marinkovic stressed just how brave she had been. At times, Marinkovic would go to parts of Kosovo under KLA control and her team was targeted by armed attacks on several occasions. Marinkovic contends that in 1998 and 1999 she was constantly threatened by 'Albanian terrorists'. In Marinkovic's words, an Albanian remanded in custody admitted in the course of an investigation that the KLA planned to assassinate her. The Albanian said he was glad that they didn't do it because he saw that there was no blame on her as she was just doing her job, Marinkovic recounted.
Danica Marinkovic continues her evidence tomorrow.