Home
SUPPORT FOR 'NEW ALLIES'
Noting that Croats made an alliance with Serbs against the BH Army, the prosecution continued cross-examining General Petkovic. To corroborate the point, the prosecutor today showed an order of 24 June 1993 in which Petkovic 'prohibits' further support to the HVO's erstwhile allies and orders that 'support be provided to new allies'. As Petkovic admitted, the new allies were Bosnian Serbs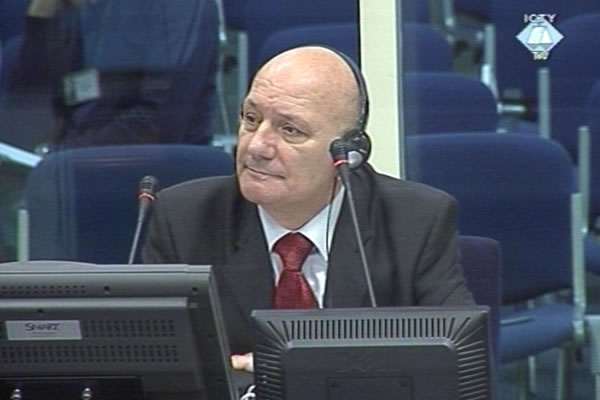 Milivoj Petkovic, witness for his own defence
'We never fought side by side with Serbs against the BH Army', former chief of the HVO Main Staff Milivoj Petkovic contended in his evidence at the trial of Tihomir Blaskic in 1999. Continuing the cross-examination, prosecutor Kenneth Scott showed ample evidence to the opposite. The prosecutor put it to Petkovic that he had given false evidence at the Blaskic trial.
Petkovic's response to those allegations was that in his evidence in the Blaskic case he had denied the HVO and the VRS cooperated in combat operations, but had not been asked about other forms of cooperation. Petkovic doesn't contest that the HVO procured weapons, ammunition and other materiel and equipment from Serbs 'at a very high price'. The BH Army did the same, Petkovic claimed.
The prosecutor nevertheless put it to Petkovic that he admitted it only after he was 'cornered' by the evidence. The prosecutor also implied that Petkovic tried to 'set up' the judges in order to convince them that the HVO fought against the Serbs between December 1992 and March 1994. This is not true, according to the prosecution. Davor Marijan, defense expert of the accused Bruno Stojic, confirmed in his evidence that there had been no significant fighting between Croats in Serbs in 1993, the prosecution argued. Petkovic tried to deny the prosecution's claims, saying that Marijan 'is not much of an expert'.
Noting that Croats and Serbs had made an alliance against the BH Army, the prosecutor referred to Petkovic's order of 24 June 1993. In the order, Petkovic 'prohibits' any further support to the erstwhile allies, ordering that 'support be provided to new allies'. As Petkovic admitted today, the new allies were actually Bosnian Serbs. Petkovic added that the alliance was agreed after the BH Army started its 'aggression' against Herceg Bosna.
Petkovic was then showed a few of a total of 46 documents that highlight various forms of cooperation between the HVO and the VRS. Petkovic replied that Serbs 'may have' provided artillery support to the HVO but he hadn't known about it. The prosecutor quoted a document that says Serbs complied with the cease-fire agreement with the Croats, 'fired on Muslims' and 'offered full cooperation against the
Balijas
'.
The prosecutor brought up another 23 documents illustrating 'the extensive cooperation' between the HVO and the VRS from early September to mid-November 1993 in the Vares and Kiseljak areas. Some documents which were not shown in court to save time were actually addressed to General Petkovic; according to the prosecutor, this shows that Petkovic 'in fact knew very well indeed' about the support for the Serb side in the fighting. The HVO documents referred to the Serb side as the 'XY' side.