Home
CORIC: I DON'T DEFEND TUDJMAN LIKE SOME DO
Former chief of the HVO Military Police Administration Valentin Coric asked the lawyers, prosecution and the judges not to interrupt his defense counsel in the cross-examination of Milivoj Petkovic. 'I don't defend Croatia and Franjo Tudjman, unlike some other accused', Coric said, adding he raised only issues related to the indictment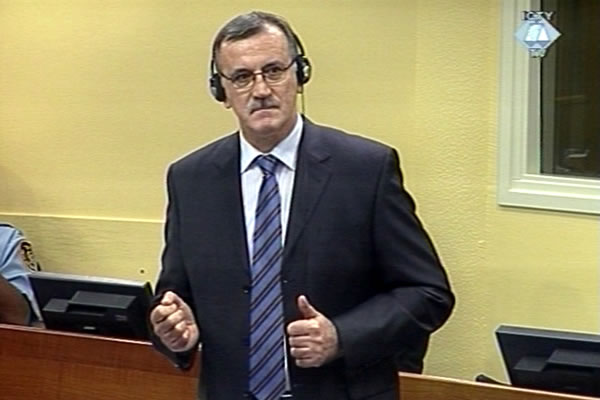 Valentin Coric in the courtroom
The defense of former chief of the HVO Military Police Administration Valentin Coric today cross-examined Milivoj Petkovic, trying to prove that once the military police were resubordinated to military units, they answered only to the commanders of those units. Petkovic's refusal to agree resulted in heated reactions, particularly on the part of accused Coric, who claimed that unlike some, he defended only himself, seeking the truth about the role of the military police in the Croat-Muslim conflict.
Coric's defense counsel Dijana Tomasegovic Tomic corroborated her argument with orders showing that the HVO military commanders were authorized to issue orders to military police units in their areas of responsibility. She reminded Petkovic that his own defense witness Bozo Pavlovic, commander of the HVO 3rd Brigade, confirmed that.
[IMAGE]4616[/IMAGE]Petkovic claims that in this and other cases, the orders related to the day-to-day business of the military police, arguing that Bruno Stojic's and Valentin Coric's approval was needed for combat orders. Stojic was the head of the HVO Defense Department and Coric was chief of the HVO Military Police Administration. Without their approval, 'there was no force' that could move the military police to do anything.
When Petkovic's defense counsel Vesna Alaburic objected, claiming that Coric's defense was going into new areas in the cross-examination, the accused Coric was up in arms. Asking the lawyers, the prosecution and even the judges not to interrupt his defense lawyer in the cross-examination, Coric said, 'I don't defend Croatia and Franjo Tudjman, unlike some other accused'. Coric only addressed issues related to the indictment, he said.
The defense brought up Coric's request to the commander of the HZ HB, the Defense Department and the Main Staff to withdraw the military police from the front lines. Asked how Praljak, as the commander of the HVO Main Staff could refuse this request if the Main Staff was not in charge of the military police, Petkovic said that as far as he was concerned Coric's document was only 'an effort to justify the inefficiency of the military police'.
Taking even greater umbrage at the reply, Coric raised his voice again, saying it was clear to him that 'it is not wise to make oneself appear efficient in the courtroom'. Despite that, Coric added, he would prove that the HVO military police was indeed efficient. In the end, he gave up on doing that, just as he decided not to personally examine Petkovic, as he had indicated previously. Coric mentioned in passing that he had discussed Petkovic's testimony with him last night. 'What can I do when we have dinner at the same table', Coric said.