Home
'INVITATIONS TO TALK', NOT ULTIMATUMS
Former chief of the HVO Main Staff, General Milivoj Petkovic contends that his orders from January and April 1993 to the BH Army were in fact 'invitations to talk' issued to the enemy side to speed up the implementation of the Vance Owen peace plan. As Petkovic put it, those orders to the BH Army to either 'subordinate or withdraw' from three BH provinces were not ultimatums as alleged by the prosecution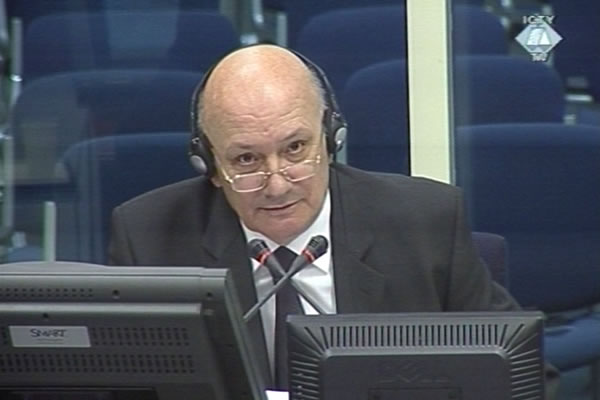 Milivoj Petkovic, witness for his own defence
General Milivoj Petkovic has rejected all allegations in the indictment charging him and five other former Herceg Bosna leaders with taking part in the joint criminal enterprise and other crimes against Bosnian Muslims during the conflict between the HVO and the BH Army. The objective of the joint criminal enterprise was annexing parts of the BH territory to neighboring Croatia.
Replying to the presiding judge, Petkovic continued his evidence by rejecting the prosecution allegations that he took part in the persecutions of Bosnian Muslims. The prosecution contends that Petkovic issued ultimatums to the BH Army, using two orders Petkovic issued between January and April 1993 to illustrate their point. In the orders Petkovic issued an 'ultimatum' to the BH Army to either subordinate or withdraw from the HVO-controlled territory in the three provinces envisaged by the Vance-Owen plan, where the Croats believed they should have exclusive power.
Petkovic claimed those were not ultimatums but 'invitations to talk' issued to the enemy side to speed up the implementation of the peace plan. In Petkovic's words, Lord David Owen himself 'encouraged' the quick implementation of the agreement; Owen believed that it would give him the upper hand in future negotiations with the Bosnian Serbs. Petkovic also claimed that the troops that should 'either subordinate or leave the territory' in the documents were those BH Army and HVO units that arrived from other parts. To corroborate this claim, Petkovic named the BH Army unit
Black Swans
under the command of Zulfikar Alispago Zuka. The Black Swans, first stationed in Sarajevo, were later sent to Mostar.
Petkovic tried to play down the importance of war reports and evidence of the Spanish Battalion (SPABAT) soldiers about the role and intentions of the HVO in the Croat-Muslim conflict. Muslim civilians moved freely in the SPABAT base in Jablanica, Petkovic said, while he would be disarmed and escorted from the entrance to the office where meetings were held. Petkovic added that Zuka spoke Spanish and in effect 'ran' the base. Petkovic also heard that there were drugs in 'the most unprofessional of all bases'. The judge then showed Petkovic a Spanish Battalion document comparing Zuka's unit to 'armed rebel gangs'. Petkovic refrained from further comments on Zuka's purported influence on the peace keepers.
Petkovic confirmed that in late October 1993 he had sent former HVO commander in Kiseljak, Ivica Rajic, to 'stabilize the lines of defense' from the village of Kopjari to Vares; the lines had been broken through. Rajic then decided 'on his own' to attack Stupni Do, Petkovic claims. Later when it was all over, Rajic reported the incident to the Main Staff. In what Petkovic claims to be Rajic's first report there was not enough information to see what had really happened in the village.