Home
PETKOVIC SAYS HE'S NOT RESPONSIBLE FOR SOVICI AND DOLJANI
General Milivoj Petkovic blamed the crimes in Sovici and Doljani on the Convicts' Battalion. According to him, the Convicts' Battalion didn't report to the HVO Main Staff, but was directly subordinated to Mate Boban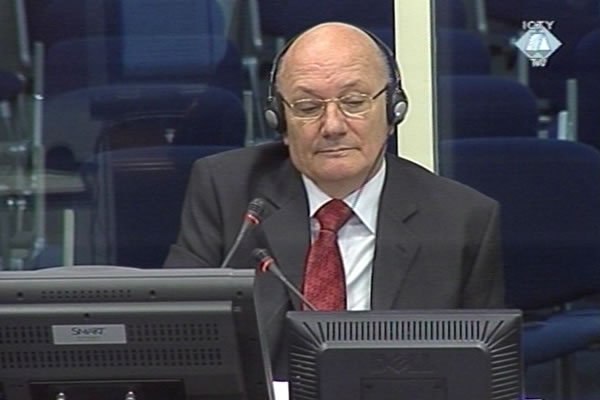 Milivoj Petkovic, witness for his own defence
General Milivoj Petkovic says he arrived in BH on 14 April 1992 to help establish the HVO. He hoped to stay in BH for a month or two; instead he remained there almost two and a half years, until early August 1994. From his arrival in BH, Petkovic served as the chief of the HVO Main Staff; from late July to early November 1993, when Slobodan Praljak was the chief of the Main Staff, Petkovic served as his deputy.
Continuing his evidence in his own defense at the trial of the former Herceg Bosna leaders, Petkovic accused the BH Army of launching an attack on the HVO in Konjic on 23 March 1993. When the conflict abated, Petkovic said, the BH Army resumed the attacks on 13 April 1993. Petkovic denied that the HVO was at the same time trying to capture Jablanica. According to Petkovic, the HVO's combat activities in those two municipalities in April 1993 were aimed at 'deter the BH Army aggression' on two battalions of the Herceg Stjepan Brigade in Konjic.
Petkovic went on to deny the accusations of HVO crimes in Sovici and Doljani. Petkovic argued that on 15 April 1993, the BH Army 44th Brigade surrounded the HVO in the village of Doljani near Jablanica. The HVO retaliated by attacking the Sovici gates the next day. After three hours of fighting, the BH Army withdrew to Sovici and then surrendered to the HVO. Some BH Army troops withdrew to Doljani, where there was no fighting.
Petkovic said that as far as he knew at the time, no HVO soldier did anything illegal in Sovici and Doljani. When the fighting was over, Petkovic contends, members of Mladen Naletilic's Convicts' Battalion continued their search for runaway BH Army troops in the hills around the villages. Mario Cikota, the battalion commander, was killed in a clash with the BH Army troops. After that Cikota's soldiers 'started burning down Muslim houses in revenge'.
Petkovic maintains that the Convicts' Battalion wasn't part of the chain of command of the HVO Main Staff. According to him, the Battalion was directly subordinated to the supreme commander, Mate Boban. At a meeting with Alija Izetbegovic in Zagreb in April 1993, Boban 'undertook to investigate what had happened' in Sovici and Doljani, Petkovic recounted. On 29 April 1993, when Herceg Bosna leaders met in Citluk they decided to establish a War Crimes Commission, which worked until 12 July 1993, when the BH Army captured Travnik. 'That's when everything stopped', noted Petkovic.
Petkovic's defense noted that Travnik was not the only place the BH Army took: it first captured Kakanj in June 1993, then the area north of Mostar towards Jablanica, then Fojnica, Bugojno and Vares, expanding the territory under its control at the expense of Bosnian Croats.