Home
FAILURE TO LIFT SIEGE CAUSED NEW WAR
Former chief of the HVO Main Staff Milivoj Petkovic contends that the BH Army was unable to lift the siege of Sarajevo and defeat Serbs and then turned against the weaker adversary, the Bosnian Croats. Petkovic claims Alija Izetbegovic and Mustafa Hajrulahovic Talijan told him as much in secret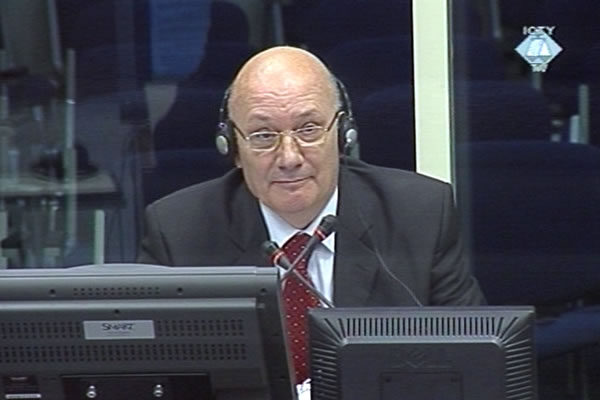 Milivoj Petkovic, witness for his own defence
Former chief of the HVO Main Staff Milivoj Petkovic continues his testimony in his own defense. He contends that the HVO didn't do anything to prepare for the war with Muslims in BH. To corroborate this argument, the defense showed the interview Petkovic gave the
Vecernji List
before his departure for BH in August 1994. In the interview, Petkovic says that the HVO won more important victories in their fight against Serbs than in the conflict with Muslims. The HVO 'never did prepare to fight Muslims', Petkovic explained at the time. Today Petkovic added that the HVO 'encouraged' Muslims and Croats to unite and jointly fight back Serb troops.
According to Petkovic, a large-scale conflict between Croats and Muslims started after an attempt to lift the siege of Sarajevo in December 1992. The BH Army hoped that the operation would mark a turning point in the war that would shape the negotiations in Geneva. However, as the operation failed, the BH Army looked for 'any way' to win and turned against Croats. 'That is how the conflicts broke out', claimed Petkovic.
To corroborate his argument, Petkovic said he was told by Alija Izetbegovic at a meeting in Jablanica on 14 December 1992 that he expected a 'great, reverberating victory'. At the meeting, Izetbegovic asked for aid in equipment and weapons to lift the siege of Sarajevo. Petkovic maintains that the BH Army 1st Corps commander Mustafa Hajrulahovic Talijan told him that 'it will not be good either for the BH Army or for the HVO' if the operation to lift the siege failed.
The failure to lift the siege of Sarajevo on 22 December 1992, according to Petkovic, resulted in a conflict between the commanders of the BH Army, who tried to blame each other for the failure. Concluding that Serbs were 'too strong' for them, the BH Army turned against the weaker side: the Croats, Petkovic noted.
By early 1993, the HVO was already aware of BH Army's intents from its intelligence sources, Petkovic said, adding that Talijan confirmed it in July 1994 when they met in his apartment in Sarajevo.
According to Petkovic, in January 1993 the BH Army started the conflict in Gornji Vakuf and then in Busovaca. The conflicts were soon stopped. In March and April 1993, the attacks resumed, this time in the Konjic area. Apart from the statements made by Izetbegovic and Talijan – both now deceased – Petkovic's defense didn't call any other evidence to corroborate those claims.