Home
PETKOVIC'S DEFENSE: GOLDEN FLEUR-DE-LIS
Chief of the HVO Main Staff Milivoj Petkovic started his testimony in his own defense. On the first day of his evidence, Petkovic noted that in early October 1992, the War Presidency of the Republic of BH decorated him with the highest military award of the BH Army, the Order of the Golden Fleur-de-Lis, for his 'special contribution to defending BH against the aggression'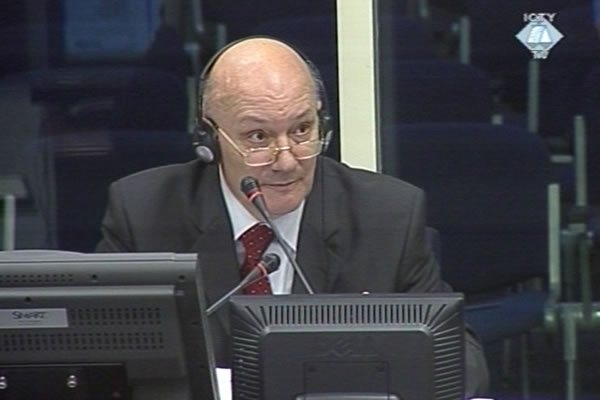 Milivoj Petkovic, witness for his own defence
'There is only one country: Bosnia and Herzegovina, and that is the state that I defended during the entire war', said Milivoj Petkovic, former chief of the HVO Main Staff denying his participation in the joint criminal enterprise, whose goal, as alleged in the indictment against Petkovic and five other former Bosnian Croat leaders, was to annex Herceg Bosna to the Republic of Croatia.
Petkovic corroborated his claim with the fact that on 7 October 1992, the War Presidency of the Republic of BH awarded him the highest military decoration in the BH Army, the Order of the Golden Fleur-de-Lis for his 'special contribution to defending BH against the aggression'. According to Petkovic, this medal was given to him in Sarajevo by Ejup Ganic, BH vice-president, in the presence of Presidency member Stjepan Kljuic and Stjepan Siber, deputy chief of the BH Army Main Staff.
Five Petkovic's soldiers and the president of the Croatian Community Herceg Bosna Mate Boban received 'Golden Fleurs-de-Lis' on the same occasion, the accused noted. According to the indictment, Mate Boban was a ringleader of the joint criminal enterprise. As Petkovic recounted, at the award ceremony, Ganic 'thanked me for everything the HVO had done in defending BH from April to October 1992': this included liberating the parts of BH east of the Neretva River towards the border with Serbia and Montenegro.
Petkovic rejected the allegations in the indictment on the Croatian Army involvement in the BH conflict, saying that the HV units entered the BH territory in November 1991 in the southern border area in order to stop the JNA advancing towards Croatia. Parts of eastern Croatia, southern BH, western Serbia and Montenegro were a 'single theatre', he said, where the HVO and HV fought the JNA and Serbian volunteers.
According to Petkovic, HV units remained deployed in BH along the southern Croatian border under the Agreement on Friendship and Cooperation, until the signing of the Dayton agreements in December 1995. The Agreement on Friendship and Cooperation was signed by Franjo Tudjman and Alija Izetbegovic in Zagreb on 21 July 1992.
General Petkovic continues his evidence on Monday.