Home
WAR IN NUMBERS
With the help of Croatian Army brigadier Radmilo Jasak, the defense of Milivoj Petkovic calculated that the war in BH lasted four years and three months. The conflict between the HVO and the BH Army took only twenty to thirty percent of the total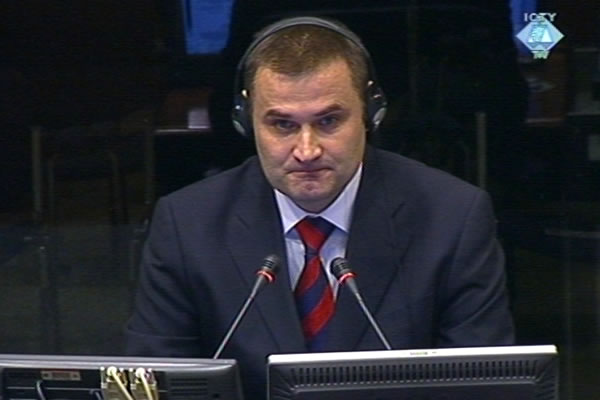 Radmilo Jasak, defence witness of Milivoj Petkovic
Croatian Army brigadier Radmilo Jasak is testifying as General Milivoj Petkovic's defense witness. During the BH war, Jasak served for a time as the HVO commander in Mostar. Jasak later worked in the Military Intelligence Service of the HVO Main Stuff. Currently, the witness is the chief of the Department for Support, Finance and Budget at the Croatian Military Academy.
In the first part of the examination-in-chief, Petkovic's defense noted that the war in BH broke out on 18 September 1991, when the JNA and the Serb volunteers arrived in the Mostar municipality. The witness confirmed this, adding that in October 1991 the Serb troops 'razed to the ground' the Croat village of Ravno in Eastern Herzegovina. His fellow students were among the reserve officers, the witness said. This to a large extent affected his decision to join the defense of Mostar in the second half of 1993.
Saying that the Dayton peace accords were signed on 23 December 1995, Petkovic's defense lawyer Vesna Alaburic calculated that the BH war 'officially' lasted 51 months: four years and three months. Croats and Muslims 'cooperated well' for the most part of that period, the witness recounted. Conflicts between the HVO and the BH Army in late 1992 and the first half of 1993 were described as 'skirmishes' by the witness; they would be dealt with within 24 hours.
Petkovic's defense argued that the Croat-Muslim conflict began on 30 June 1993, when the Muslims in the HVO ranks defected to the BH Army. The witness confirmed this. According to this calculation and taking into account the fact that the warring factions signed the Washington peace agreement in March 1994, the Croat-Muslim conflict lasted less than a full year. As Petkovic's defense counsel put it, the Croat-Muslim conflict took only 20 to 30 percent of the total time of the BH war.
The witness went on to claim it was impossible to exercise effective control over the HVO units. As an example of an 'ineffective control' the witness recounted a case from 1992. A local boss 'as payback for being drafted' bought new US uniforms and sunglasses for fifteen members of his battalion, and invited them to beer and barbecue. According to the witness, such behavior had 'an extremely negative' impact on the morale of other soldiers.
The witness boasted that he had eventually managed to persuade his soldiers to give up their new uniforms, leading Judge Stefan Trechsel to note that it was obviously an 'example of successful control'. The witness disagreed, saying that he achieved this only after 'sitting down for a long time and trying to talk them into it'. Jasak's evidence continues tomorrow.