Home
DJORDJEVIC'S DEFENSE: OJDANIC'S ORDER CAME TOO LATE
Police general Vlastimir Djordjevic is trying to defend himself against the charges of crimes against Albanian civilians in 1999 with an order issued by Dragoljub Ojdanic, Chief of the VJ General Staff, in which he demands that the crimes be prevented. The order was issued a month after Louise Arbour, the then chief prosecutor, warned the FRY leadership in writing of grave human rights violations in the province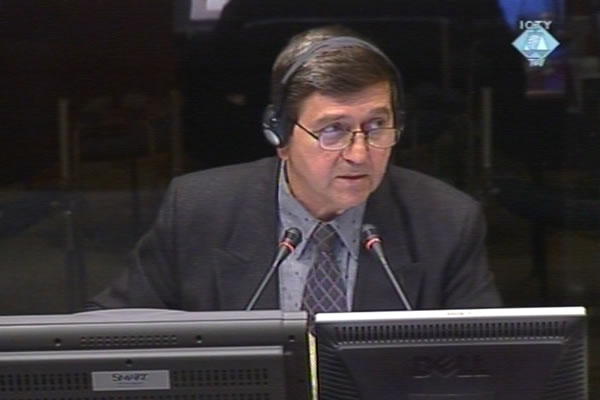 Milovan Vlajkovic, defence witness of Vlastimir Djordjevic
The defense of police general Vlastimir Djordjevic is trying to prove that the Serbian authorities responded properly to a letter Louise Arbour sent to high-ranking officials in Serbia and the FRY at the beginning of the NATO campaign. Arbour was the ICTY Chief Prosecutor. In her letter to thirteen high-ranking political, military and police officials, Arbour expresses her concern over reports of grave violations of international humanitarian law in Kosovo, urging the officials to do everything in their power to prevent new crimes. Arbour warns them she is determined to investigate and prosecute those responsible. Arbour's letter was sent to some of Djordjevic's close collaborators but not to Djordjevic himself.
Chief of the VJ General Staff Dragoljub Ojdanic responded to the letter, claimed Ojdanic's chef de cabinet Milovan Vlajkovic in his evidence today as Djordjevic's defense witness. As soon as he received the letter, Ojdanic ordered his legal team to draft an order, demanding that measures be taken to prevent crimes in Kosovo, the witness contends. Ojdanic demanded that his subordinate units submit reports on what they had done to comply with the order.
Dragoljub Djordjevic, who bears the same last name as his client, the accused general, did not deal with the dates of the documents in his examination-in-chief, but when Vlajkovic testified at the Kosovo Six trial in 2007, it transpired that Ojdanic's 'swift response' followed more than a month after Louise Arbour's letter, dated 26 March 1999. The witness claimed that the Chief Prosecutor's letter did not reach the General Staff before 3 May and that Ojdanic's order was drafted 'immediately', mere days after it was received.
As Vlajkovic explained in 2007, the delay was caused by the fact that Arbour's letter was not sent directly to the General Staff, but through the federal Justice Ministry. He didn't know whether the letter was held in the Ministry for over a month or was in the mail.
As Vlajkovic's testimony continued, the defense lawyers showed him some military documents: the witness contested their authenticity. The public was left in the dark as to the contents of the documents, either on purpose or accidentally. The witness probably contested the authenticity of the report sent by Nebojsa Pavkovic, 3rd Army commander, to the General Staff on 25 May 1999, in which he warns about the crimes the police committed against Kosovo Albanians. The witness had already done that at the Kosovo Six trial, where he testified as Ojdanic's defense witness. Vlajkovic's deputy in Ojdanic's office, Milan Radoicic, was already called by Djordjevic's defense to testify about this issue two days ago.