Home
INVISIBLE REFUGEES
In his statement to the defense, Rade Cucak said that in 1999 more than 800,000 Albanian civilians left Kosovo. Now the former chief of the VJ Border Service Department contends that during his visits to his units in the province he never saw any mass crossings of the border, adding as a caveat that the police, not the army, was in charge of border crossings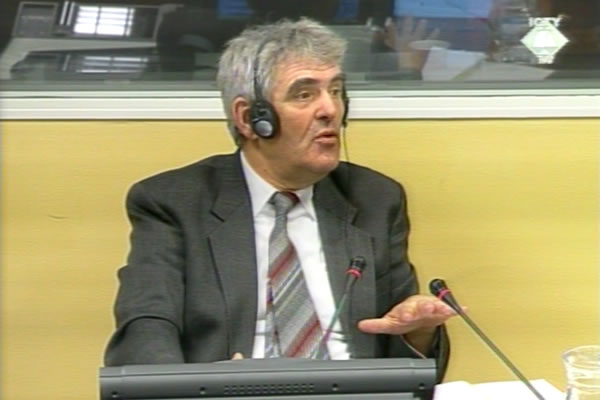 Rade Cucak, defence witness of Vlastimir Djordjevic
In his statement to the defense of the former chief of the VJ General Staff Dragoljub Ojdanic, retired colonel Rade Cucak said that according to the Serbian MUP intelligence, 837,166 Albanians left Kosovo for Albania and Macedonia during the NATO campaign in 1999. Cucak testified in Ojdanic's defense in 2007. Today, in his testimony in the defense of police General Vlastimir Djordjevic, Cucak tried to play down the weight of that information.
In reply to prosecutor Elliot Behar, Cucak said he didn't get the figures for the refugees from the Serbian MUP, but from the media, admitting that he 'may have made a mistake' when he failed to mention that to Ojdanic's defense. A bit later, Judge Flugge joined the debate, saying that he was 'slightly taken aback' to hear that the witness got such a specific figure from the media. As Cucak then explained, he saw various figures for Albanian refugees in the press after the NATO campaign, and accepted the one that was the most precise. As he clarified, the fact that the journalist referred to the police sources added to the credibility of the information. Cucak was unable to provide more details as to when and where he found that information in the press.
Although Cucak claimed that in 1999 he had visited Kosovo several times to tour the state border, he never saw any of the 837,166 refugees who left for Albania and Macedonia. Cucak contended that the army was there to secure 125 kilometers of the state border, but the police was in charge of border crossings. Cucak rejected the allegation that he had to have seen the mile-long columns crossing the border even though he was not at the border crossing itself.
The retired colonel also said he had never heard about the Albanian refugees being stripped of their IDs as they left Kosovo and those IDs being burned. The prosecutor was quite surprised by this claim and Cucak explained that during the NATO campaign he 'really never heard about the seizure of documents'; later, when he retired, he never talked about his old job.
At the very beginning of the cross-examination, the prosecutor implied that the use of the army in Kosovo before the NATO campaign was illegal, because the state of war had not been proclaimed. Indeed, in late 1998, the then chief of the VJ General Staff Momcilo Perisic was removed from office because he insisted on that point. Aleksandar Dimitrijevic, Security Administration chief, was also dismissed on the eve of the NATO campaign, for the same reason. Cucak said he didn't know why they were dismissed: this was outside of his remit and did not interest him at all.
As the hearing today drew to a close, the defense called Milan Radoicic. He was a member of the war office when Dragoljub Ojdanic was the chief of the General Staff.