Home
MINISTER FROM PALE MADE ARRESTS IN BELGRADE
Vitomir Zepinic, former deputy interior minister in BH, says that the accused Mico Stanisic, the first police minister in the Bosnian Serb government, waved a gun at him, threatening to kill him. Some months later, Stanisic personally arrested Zepinic in Belgrade and took him to jail in Pale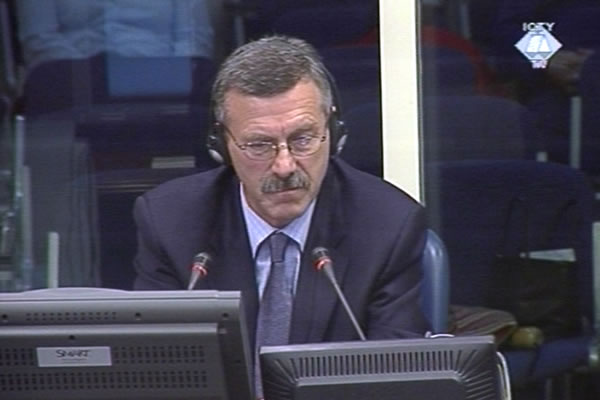 Vitomir Zepinic, witness at the Mico Stanisic and Stojan Zupljanin trial
In 1991, the leaders of the nationalist parties did not realize that they could not decide to appoint their party members to posts in the police and they constantly put pressure on the MUP to do so. Former deputy interior minister Vitomir Zepinic recounted this at the trial of former Bosnian Serb police leaders Mico Stanisic and Stojan Zupljanin. Zepinic analyzed the contents of intercepted telephone conversations between him and Radovan Karadzic.
Karadzic accused Zepinic of working against the interest of Serbs and threatened to dissolve the BH MUP. Zepinic today called his claims and threats 'rubbish'. In his evidence, Zepinic frequently expressed his affection for Sarajevo and coexistence. After he was shown an excerpt from the film
Death of Yugoslavia
about the roadblocks in Sarajevo in March 1992, Zepinic asked the judges for a break. Zepinic said he had 'a strong emotional reaction' when he saw the footage of 'my country dying'.
Zepinic described Momcilo Mandic's letter of 31 March 1992 declaring that Serbs would separate from the BH MUP as 'completely unauthorized'. Zepinic sent a new letter, co-signed by the MUP minister Alija Delimustafic, opposing the partition of the MUP. Several days later, at a meeting with the commanders of the MUP special units, both Delimustafic and Zepinic supported the idea that the three ethnic groups should work side by side in the police. At that meeting, Momcilo Krajisnik called Zepinic asking him to end the meeting and come to the assembly immediately.
Zepinic nevertheless did not go to the Assembly before the meeting was over. In the corridor, he saw masked and armed men in paramilitary uniforms. In Krajisnik's office, Zepinic found the complete Serbian Democratic Party leadership. The accused Mico Stanisic was also there, together with the deputy special police commander Milenko Karisik. Karisik was later appointed special police commander in the newly established Serb MUP. The atmosphere was very tense, Zepinic recounted. The people there accused him of subverting the concept of the ethnic partition of the MUP with his calls for joint action. The ethnic partition had allegedly been agreed by the nationalist parties. When Zepinic raised his doubts that such an agreement existed, Mico Stanisic drew his gun. Zepinic resigned when Stanisic threatened to kill him.
Zepinic was hiding in the months that followed. In September 1992, as Zepinic was leaving the Canadian embassy in Belgrade, Mico Stanisic personally arrested Zepinic and transferred him to Pale. Two months later, Zepinic managed to escape from prison with the help of some friends, and then emigrated. Zepinic denies he was appointed a military security officer when he got out of prison. Former deputy prime minister in the first Bosnian Serb war government Milan Trbojevic claimed that in his evidence in December 2009.
The defense of Mico Stanisic and Stojan Zupljanin will cross-examine Zepinic on Monday.