Home
FIVE DEAD IN THE 'DEATH CAMP'
Prosecution witness testifying as ST 172 confirmed the defense argument that descriptions of Manjaca as a 'concentration camp, a death camp or a killing camp' were 'a big lie'. The witness claims that out of a total of 4,403 persons that went through Manjaca 'a grand total of five persons died' in the 'POW camp'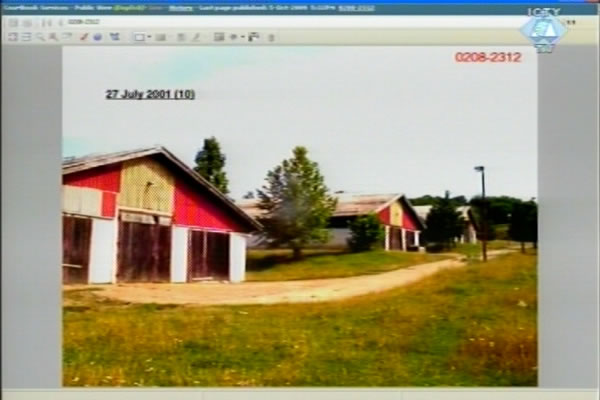 Concetracion camp Manjaca
In the cross-examination of the prosecution witness testifying under the pseudonym ST 172, the defense counsel of Stojan Zupljanin, former chief of the Security Services Center in Banja Luka, suggested that describing Manjaca as 'a concentration camp, a death camp or a killing camp' was 'a big lie'. In 1992, the witness worked in Manjaca. He agreed with the defense's suggestion. The witness said that 'a grand total of five persons died' in the "POW camp", out of 4,403 prisoners that went through it. Prisoners Adem Filipovic and Esad Bender died in violent incidents, while three people died of natural causes.
In his examination-in chief, the witness confirmed what he wrote in his reports in 1992 when he warned his superiors that Manjaca was not a 'house of terror', complaining that the prisoners were brought in indiscriminately without any evidence that they had taken part in armed rebellion; they were not treated humanely. Replying today to the defense, the witness changed his statement in part. The witness said that nobody in RS wanted to keep the people in the prison camp in harsh conditions and make their lives difficult. The witness also confirmed the defense argument that 'in the circumstances, everything that could be done was done'. Whoever wanted to investigate the Manjaca case 'should bear in mind the time and the context in which the camp existed', the witness stressed.
The witness also confirmed the defense argument that there was evidence of Filipovic's participation in the effort to arm Muslim units. The witness said he wasn't aware that another prisoner, medical doctor Sabanovic, issued more than 2,000 false medical certificates to help conscripts avoid the draft or military service. However, the witness agreed with the defense counsel that this could have been qualified as 'aiding armed rebellion'.
Judge Delvoie couldn't understand how issuing medical certificates could be qualified as 'aiding armed rebellion'. By way of an explanation, the witness said that men exempt from military service would join paramilitary formations: 'the green berets and Croatian armed forces', and this 'weakened the combat and military strength of the JNA and the VRS'.
In his re-examination, the witness agreed with the prosecution that the 'general living conditions' – food, hygiene and accommodation in Manjaca – were 'absolutely inadequate for the prisoners', but he still maintained it was 'proper' to bring in those who hadn't taken part in armed rebellion 'for their own protection'. As the witness put it, for some of the prisoners, it was not safe to remain in their homes. Other prisoners had nowhere to go and had to be brought back to Manjaca.
The trial of Mico Stanisic and Stojan Zupljanin continues on Monday.