Home
DJORDJEVIC: 'I DIDN'T KNOW ABOUT CRIMES OF THE POLICE'
The former chief the Serbian MUP Public Security Department noted he 'didn't know about the crimes of the police in Kosovo' adding that he was not in charge of those units. Djordjevic claimed that if he had been responsible he would have said so to the judges 'loud and clear'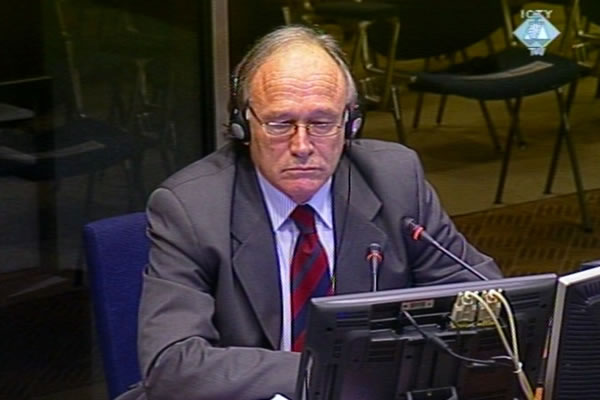 Vlastimir Đorđević svjedoči u svoju odbranu
After two full weeks, the accused Vlastimir Djordjevic, former chief of the Serbian MUP Public Security Department, completed his evidence. As his cross-examination drew to a close, Djordjevic repeated – in his words 'for the umpteenth time' – that he was not in charge of any police officers in Kosovo engaged in anti-terrorist activities or the defense of the country.
Djordjevic pointed that the 'minister could assign him' to be in charge of the police units in Kosovo, but in that case the minister would have to have removed him from the post of the chief of the Public Security Department. If the minister had given him those powers, Djordjevic said he would 'be responsible and would tell the judges loud and clear what my powers were and what I did'.
As alleged in the indictment, foreign diplomats, UN and OESS representatives, human rights organizations and foreign and domestic media regularly reported on crimes committed on Kosovo. The indictment charges Djordjevic with murder and deportations of Kosovo Albanians in 1999. The prosecutor brought up a series of letters written by the international representatives and foreign and domestic media reports speaking of specific crimes. Djordjevic nevertheless stuck to his claim that he was unaware of any specific crimes and that he didn't read about them. The accused explained that he focused on the 'territory outside of Kosovo'. 'None of the international representatives sent me any letters', he added.
Djordjevic confirmed that the reports about thousands of Kosovo Albanians fleeing the province had reached him. According to Djordjevic, those reports 'do not say how and why those people left Kosovo'. When the prosecutor asked him if he knew about the media claims that 'the Serbian police used excessive force' and set houses of Kosovo Albanians on fire, Djordjevic replied that foreign press may have written about that but that he didn't read those papers. Djordjevic added that he didn't know who set the houses on fire, but he always 'insisted that those found to have committed crimes and perpetrated unlawful acts should be identified and prosecuted'.
In the re-examination, Djordjevic confirmed that the MUP Staff for Kosovo was in charge of police units in the province. The MUP Staff was established by an order of interior minister Vlajko Stojiljkovic, and was headed by General Sreten Lukic, who was sentenced in 2009 by the Tribunal to 22 years for the police crimes on Kosovo. Djordjevic also said that the 'police didn't send volunteers and paramilitary units to Kosovo' and that those units were not on the MUP payroll.
After his evidence, Djordjevic returned to the dock and will now continue to follow the defense case, set to continue on 20 January 2010.