Home
DJORDJEVIC DECIDED TO SEND SCORPIONS TO KOSOVO
Former commander of the Special Anti-terrorist Units (SAJ) says the accused Vlastimir Djordjevic informed him that the Scorpions had been sent to Kosovo. On 28 March 1999 members of that unit shot 19 women, children and old men in Podujevo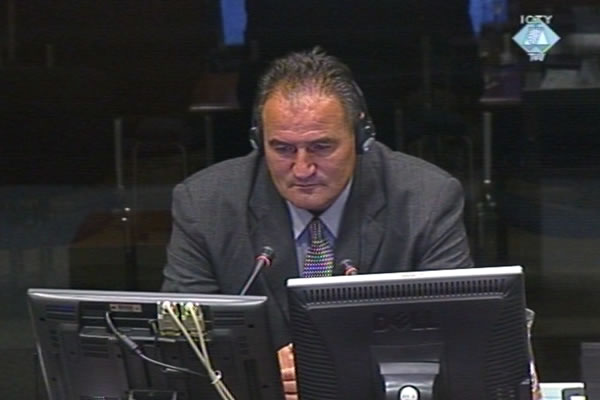 Živko Trajković, svjedok na suđenju Vlastimiru Đorđeviću
Former commander of the Serbian MUP Special Anti-Terrorist Units (SAJ) Zivko Trajkovic began his evidence at the trial of police general Vlastimir Djordjevic. In early 2004 the OTP investigators interviewed Trajkovic as a suspect, but no indictment was issued.
According to Trajkovic, in late March 1999 the accused Djordjevic, who was the chief of the Serbian MUP Public Security Department, told him that the SAJ troops in Podujevo would be reinforced by a unit called the Scorpions. On 28 March 1999 in Podujevo, members of that unit executed 19 Albanian women, children and elderly, half an hour after they arrived in the village.
Although the Scorpions were immediately disarmed and brought back to Serbia, by mid-April 1999 Trajkovic and Djordjevic agreed that the crime was the result of an isolated incident and the 'whole unit should not bear the consequences'. After that a group of 'clean' Scorpions was sent back to Kosovo where it fought as part of the SAJ until June 1999. When the prosecution argued that the 'clean' group comprised some of the perpetrators of the crime in Podujevo, Trajkovic replied that because of the 'code of silence' among the Scorpions, the officials were unable to identify all of the perpetrators of the crime.
Trajkovic also testified about the pattern of joint operations by the army and the police in Kosovo. The witness described how the army provided artillery support for police operations. Trajkovic confirmed that in the second half of 1998 and in 1999 he had been receiving orders from the Joint Command of the army and the police for Kosovo. As alleged in the indictment, General Djordjevic took part in the Joint Command. The prosecution is trying to prove that FRY president Slobodan Milosevic controlled the situation in Kosovo and implemented the ethnic cleansing campaign through that informal body. The defense denies the existence of the Joint Command.
The prosecution will continue examining Zivko Trajkovic tomorrow.