Home
POLICE OVERSAW THE DIGGING UP OF GRAVES
At the trial of the former chief of the Serbian MUP Public Security Department, an excavator operator from Djakovica claims that in the spring of 1999 he dug out bodies of Albanians on three separate occasions, each time on police orders and with police supervision. Bodies were then loaded onto refrigerated trucks and driven away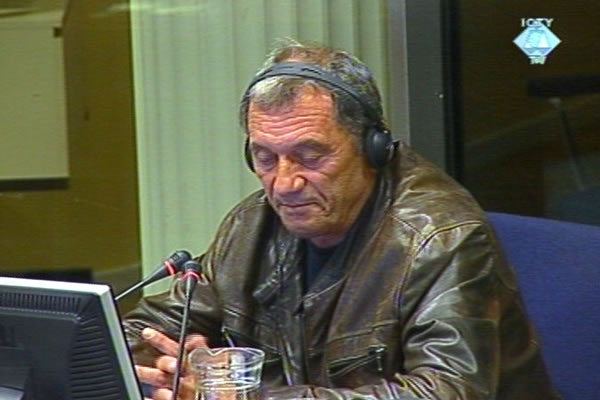 K-72, svjedok na suđenju Vlastimiru Đorđeviću
At the trial of police general Vlastimir Djordjevic, an excavator operator testified under pseudonym K-27, but without image protection. In his evidence the witness described how in the spring of 1999 he had taken part in digging out the bodies of Albanians from three mass graves in the Djakovica area. The indictment charges Djordjevic with the expulsion and killing of Kosovo Albanians and the efforts to cover up the crimes committed in the spring of 1999.
The three exhumations took place in April 1999, the witness says. In all three cases, uniformed police officers came to his house in the evening and took him to a location where the bodies were buried. The witness's task was to dig out bodies with an excavator and then load them onto a refrigerated truck or an ordinary truck which would be parked nearby. Bodies were then driven away.
In the first mass grave, located near a bridge at Bistrazin, there were approximately 100 to 120 bodies, the witness said. About twenty days later he spent the whole night digging out bodies from the graveyard in Brekovac. According to his estimate, there were more bodies in that grave than in the previous one. The witness's last task followed soon after: he was taken to a forest near the village of Guska. There he dug out dozens of bodies with an excavator.
As the witness recounted in court, the bodies had been freshly buried and there was an 'unbearable stench'. During the excavation sometimes his excavator shovel damaged the bodies, or cut off arms or legs. Each time the graves were dug up, the police secured the area and after he did his last job a police officer threatened him, saying, 'If you talk about it, you'll lose your head'.
In his cross-examination, General Djordjevic's defense counsel implied that those had been regular exhumations, asking the witness 'what is peculiar about the police securing a location during an exhumation'. The witness said he found it strange that nobody had told him what he would be doing before he reached a grave site and that it was done at night. He wasn't familiar with the legal procedure for the exhumations, the witness said, adding that it was his first and hopefully last job of that kind.
The trial of Vlastimir Djordjevic continues tomorrow with the evidence of another protected witness testifying under the pseudonym K-14.