Home
DEFENSE: ARMY FORGED DOCUMENTS
Canadian military analyst claims there are no forgeries among the Yugoslav Army documents the Serbian authorities handed over to the OTP investigators; the defense has put it to him some documents were forged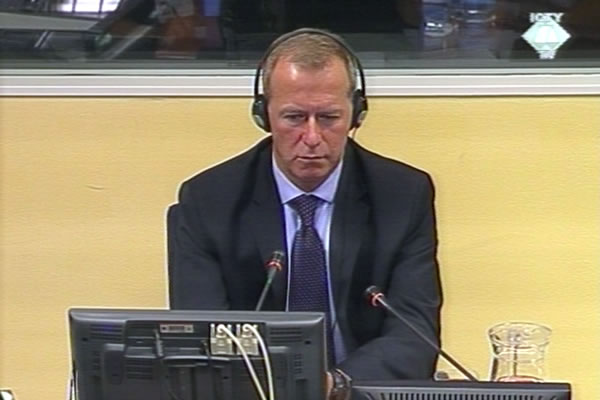 Phillip Coo, svjedok na suđenju Vlastimiru Đorđeviću
Canadian military analyst Phillip Coo completed his evidence at the trial of former chief of the Public Security Department in the Serbian MUP, Vlastimir Djordjevic. Coo worked nine years as an analyst in the OTP on cases dealing with the crimes in Kosovo. Yesterday he spoke about the operations of Serbian forces in the province on the basis of documents handed over to the OTP by the Serbian authorities.
As his examination-in-chief drew to a close, Coo confirmed that the documents tendered into evidence by the prosecution conformed to the standard formats, saying their authenticity was not in question.
The defense challenged the witness's expertise. Lead counsel Dragoljub Djordjevic put it to the witness that there were forgeries among the documents obtained from the Serbian authorities, in particular among those handed over to the OTP in mid-2002 by Nebojsa Pavkovic, who was the Chief of the General Staff at the time. In February 2009, Pavkovic was sentenced by the Trial Chamber to 22 years in prison for the murder and persecution of Kosovo Albanians; Vlastimir Djordjevic faces the same charges.
Phillip Coo explained there was 'some concern' about the documents, but once they were checked, 'there was no evidence to indicate they had been forged'. The witness then said there were no resources to conduct a forensic analysis of the documents, including a handwriting analysis, to authenticate each and every piece of paper. The documents were authenticated by comparing them to other documents and reference numbers.
The trial of police general Vlastimir Djordjevic will continue on Monday with the testimony of a new prosecution witness, Dren Caka, the sole survivor of the massacre in the night from 1 to 2 April 1999, when the Serbian police killed nineteen women and children in Milosa Gilica Street in Djakovica. Dren Caka was ten at the time. His sisters, aged two, six and fourteen, were killed.