Home
PRALJAK SPOKE 'ON BEHALF OF EVERYBODY'
Since Praljak contended that in 1993 he 'never set foot' in any of the HVO detention centers, the prosecution showed a part of the interview Praljak gave in 1995 to a BBC journalist making the documentary Death of Yugoslavia. Praljak said that he had been in Heliodrom. Praljak tried to justify that by saying that he spoke in general terms, 'on behalf of everybody' from the HVO, based on the information he 'obtained later'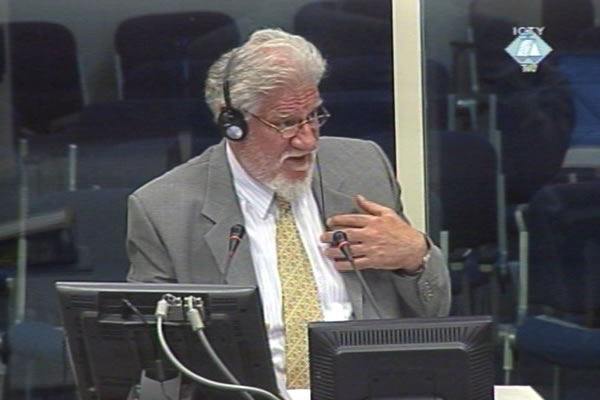 Slobodan Praljak svjedoči u svoju odbranu
As his cross-examination continued, General Slobodan Praljak claimed that he hadn't known about the HVO detention centers. Praljak explained that he had done nothing to improve the conditions in prison camps simply because they had not been among his duties. Praljak was the commander of the HVO Main Staff from 24 July to 9 November 1993.
The prosecutor suggested that Praljak wasn't telling the truth. It was impossible that special rapporteur for former Yugoslavia Tadeusz Mazowiecki knew more than Praljak, the prosecutor said. Mazowiecki drafted a report on bad conditions and the abuse of Muslims detainees in HVO camps, causing a stir in the world public in the summer of 1993 and forcing Croatian president Tudjman to react. The prosecution brought up an order Mate Boban had issued after Mazowiecki's report, calling for the conditions in detention centers to be brought in line with the Geneva conventions and international humanitarian law 'immediately'. The order was addressed to the Main Staff and the HZ HB Defense Department.
Praljak confirmed that he had received that order but remained adamant that it didn't apply to him, arguing that prisons were not under the jurisdiction of the Main Staff. When the prosecution asked him if he wanted to say that the Defense Department headed by Bruno Stojic was in charge of the prisons, Praljak replied that he didn't know if that was the case. The prosecution suggested that Praljak avoided giving answer because he was aware that both the Main Staff and the Defense Department were responsible for prison camps.
Since Praljak claimed that in 1993 he 'didn't set foot' in any on the detention centers, the prosecution showed a part of an interview Praljak gave in 1995 to authors of the documentary
Death of Yugoslavia
. In the interview Praljak clearly says that he was in Heliodrom and that he ordered that some blankets, mattresses and other items be sent to Dretelj and Gabela. The accused explained that in the interview he had spoken in general terms, 'on behalf of everybody' from the HVO, based on the information he obtained 'later'.
The prosecution also noted that, unlike Praljak, his successor in the HVO Main Staff General Ante Roso thought that detention centers were under the jurisdiction of the army. Together with his assistant for security Marijan Biskic, Roso immediately took a number of measures as soon as he assumed his duty. 'That is not correct', Praljak replied adding that what Roso and Biskic did 'was their problem'; the fact that Roso and Biskic took appropriate measures didn't mean that the Main Staff was in charge of prison camps.
The prosecution will complete its cross-examination of Slobodan Praljak early next week. Praljak will then be examined by the judges and re-examined by the defense teams.