Home
PRALJAK: CROATS HAD THE TOUGHEST TIME
As General Slobodan Praljak contends, Croats had the toughest time in Mostar in the communist era; this is why they mostly declared themselves as Yugoslavs. With their documents showing the opposite, that the majority of Yugoslavs in Mostar were actually ethnic Muslims, the prosecution argues that the Croatian authorities feared that Croats would end up a minority once the Muslims' national awareness was raised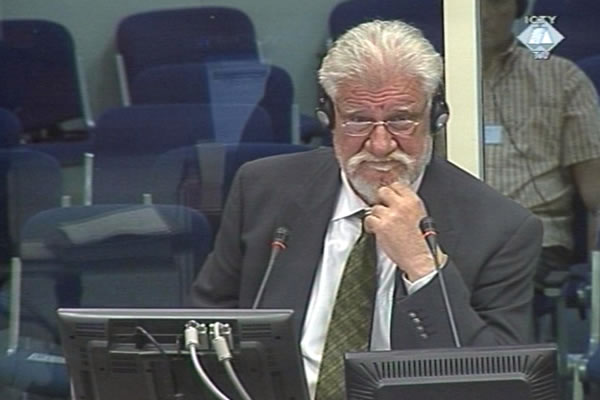 Slobodan Praljak svjedoči u svoju odbranu
Continuing its cross-examinations of General Slobodan Praljak, the prosecution today noted that the HVO used force to secure a Croatian majority in the Herceg Bosna territory. Listing Mostar as an example where Croats were a minority in comparison with the Muslim population according to the 1991 census, the prosecution claimed that between the spring of 1993 and late 1993 the number of Muslims declined drastically while the number of Croats increased.
The prosecution brought up a document drafted by the Office for Refugees and Displaced Persons of the Croatian Community Herceg Bosna stating that over 12,000 persons declared themselves as Yugoslavs in Western Mostar in the 1991 census. The document also noted that those were mostly ethnic Muslims and to some extent ethnic Serbs, going on to express concern that if their national awareness were to be raised, Croats risked ending up a minority in Mostar. The document implied that it was necessary to consider how to counter that, ensuring that Croats remained in 'the capital of their state'.
This only showed it was the 'communist ideal' to invent a new nation, Praljak replied angrily, noting that there 'is no evidence' that it was mostly Muslims who declared themselves as Yugoslavs. Despite being reminded by the prosecution that the document of the HZHB Office for Refugees and Displaced Persons claimed that among those who declared themselves as Yugoslavs, Croats were a minority, Praljak insisted that 'a significant number of Croats converted to Yugoslavs as Croats had the toughest time'. Praljak's lawyer Bozidar Kovacic noted that the Office for Refugees and Displaced Persons was a 'small administrative office' that didn't shape the HZ HB policy.
The records of the Office for Refugees and Displaced Persons also show that some 30,000 Muslims left the part of Mostar controlled by the HVO from March to November 1993. Praljak agreed that those claims were 'mathematically accurate'; nevertheless, he added, those were mostly Muslim refugees who had been expelled from parts of BH under Serb control who then went on either to Croatia or to third countries. Local Muslims, in Praljak's words, enjoyed the full protection of the Croatian authorities, with the exception of 'isolated cases' when units that were not under the HVO control would take power into their own hands.
The Convicts' Battalion under the command of Mladen Naletilic Tuta was one of those 'out-of-control' units, Praljak argued. Tuta was sentenced to 20 years for crimes in the Mostar area. According to Praljak, in the period from 24 July to 9 November 1993 when he served as the commander of the HVO Main Staff, Tuta was not under his command. But Praljak also claims he wasn't aware that Tuta was a security adviser to former Herceg Bosna defense minister Bruno Stojic. Stojic is also in the dock in this trial.