Home
DEFENSE: DJORDJEVIC HAS NOTHING TO DO WITH COVER-UP
Vlastimir Djordjevic's defense contends that a prosecution witness, former chief of the Uzice SUP, decided on his own to bury the bodies discovered in the Lake Perucac in April 1999. The witness denies this, claiming that the accused instructed him what to do with the bodies. At that time Djordjevic was chief of the Public Security Department in the Serbian MUP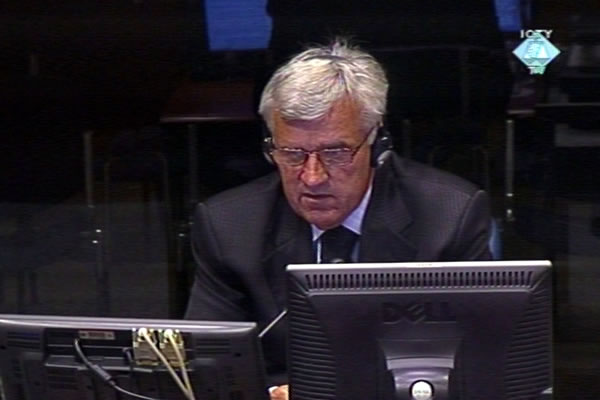 Đorđe Kerić, svjedok na suđenju Vlastimiru Đorđeviću
In the cross-examination of prosecution witness Djordje Keric, former chief of the Uzice SUP, the defense of police general Vlastimir Djordjevic didn't contest that the witness had informed the accused about the bodies having been discovered in the Lake Perucac in Western Serbia; Keric said that in his examination-in-chief. The defense claims that in April 1999 Djordjevic didn't order the bodies to be removed and buried in a mass grave near the lake. As the defense contends, Keric had decided to do that on his own.
Defense counsel Aleksandar Popovic put it to the witness that Djordjevic had been 'surprised' when he learned about a refrigerator truck with dozens of bodies of Kosovo Albanians that had been found in the Lake Perucac. The witness could not confirm that although he admitted that Djordjevic had been 'agitated', and said 'this isn't good', adding he would soon call the witness. An hour later Djordjevic called Keric again, ordering him to bury the bodies near the lake. Keric was not supposed to follow the usual procedure which included a crime scene investigation in the presence of an investigating judge and district prosecutor.
The defense counsel then reminded the witness that he had stated something else in 2005 to investigative judge Milan Dilparic in Belgrade. In his statement to Dilparic, Keric repeated at least five times that it had been his own decision to bury the bodies, as defense counsel Popovic noted. When asked directly if Djordjevic ordered him to do that, Keric purportedly denied it.
The witness clarified today that he 'supposes' he had told the Belgrade investigative judge that he and his colleagues in the field discussed how it would be a good idea to bury the bodies near the lake. However, they did nothing until Vlastimir Djordjevic issued the order. The fact is, the witness insisted, that he couldn't have done anything without an order of the chief of the Public Security Department. Keric himself didn't have 'the power, reasons or motive' to decide something like that. The witness reminded the defense counsel of the statement he gave to the MUP Working Group during an internal investigation in July 2001 when his 'memory was the freshest'.
In the re-examination, prosecutor Stamp showed the witness the 2001 statement where he says that he informed Djordjevic about the bodies surfacing. According to the statement, Djordjevic then instructed Keric not to tell investigative bodies, ordering him to bury the bodies in a mass grave near the lake instead.
Vlastimir Djordjevic's trial continues on 17 August 2009 after the summer recess. The prosecution indicated at the end of today's hearing that they expected to rest their case in October 2009.