Home
ORDER: 'BURY THE BODIES AND KEEP QUIET'
Former chief of the Uzice SUP claims that Vlastimir Djordjevic told him in April 1999 to organize the burial of bodies of Kosovo Albanians that surfaced in the Lake Perucac in Central Serbia and not to tell the investigative bodies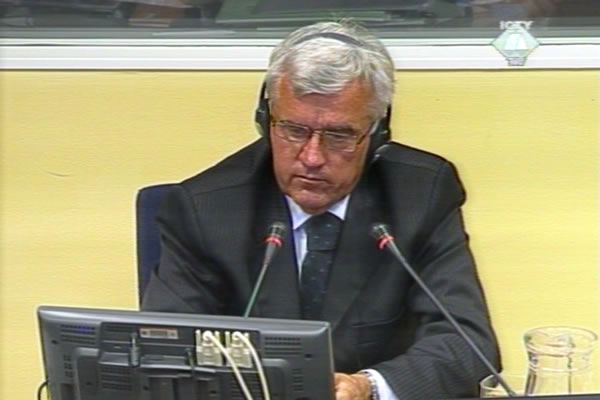 Đorđe Kerić, svjedok na suđenju Vlastimiru Đorđeviću
When unidentified bodies surfaced in April 1999 in the Lake Perucac, chief of the Public Security Department in the Serbian MUP Vlastimir Djordjevic ordered the chief of the Uzice SUP to organize the burial of the bodies in a mass grave. Djordje Keric, the Uzice SUP chief, gave evidence today as a prosecution witness. He claims Djordjevic told him not to inform the district prosecutor and the investigating judge about the bodies from the Lake Perucac
Vlastimir Djordjevic is charged with crimes perpetrated by the Serbian forces in Kosovo, and with covering up the crimes. The Lake Perucac area is one of the three locations in Serbia where mass graves containing the remains of more than 800 Kosovo Albanians were found. Two other mass graves were located at the SAJ training ground in Batajnica near Belgrade and in Petrovo Selo in Eastern Bosnia.
Keric said that all the information about the bodies surfacing in the lake had come from Zoran Mitricevic, chief of the SUP Criminal Investigations Division. Keric didn't personally visit the crime scene. Mitricevic told him that bodies belonged to civilians from a sunken truck with no license plates, Keric recounted. The bodies, Mitricevic told him, could not be identified. There were men and women and they were all highly decomposed. The burial, the witness noted, took two days. During that time, he regularly made progress reports to Vlastimir Djordjevic. He asked Djordjevic twice, Keric claims, whether to inform the district judge and district prosecutor about it all, but Djordjevic told him not to tell 'anybody outside of the police'.
Immediately after this incident, Keric was transferred to another duty in the SUP in Belgrade. He learned about who the bodies were for the first time from the media in the summer of 2001. Just before that, Keric was interviewed by the MUP Working Group, and then he told them the same story he had told the OTP. The official record of the Ministry notes that Keric agreed with inspector Dogandzic that 'divers should sink' the bodies and urged him to 'speed up' the burying process. The witness denied it was true. According to him, he only had contacts with Djordjevic and he believed that 'only somebody from the Ministry' could exert pressure to speed up the burial.
The prosecution also showed the witness a number of dispatches signed by the accused about sending the Special Police Units to Kosovo. Keric confirmed that they were authentic, clarifying that they were a part of 'a regular procedure' when additional combat units were sent in.
Djordje Keric will continue his evidence tomorrow.