Home
WITNESS: 'ATTACKERS WERE POLICEMEN'
The prosecution continues its case at the trial of Serbian MUP general Vlastimir Djordjevic with the evidence of Sami Parashumti. In the night from 1 to 2 April 1999, Parashumti, an Albanian from Kosovo, observed what was going on in the Milosa Gilica Street in Djakovica from his roof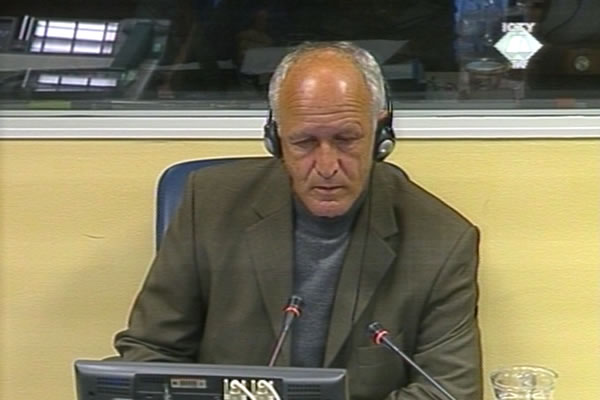 Sami Parashumt, svjedok na suđenju Vlastimiru Đorđeviću
The trial of Serbian police general Vlastimir Djordjevic for Kosovo crimes continued today with the evidence of Kosovo Albanian Sami Parashumti who spoke of the massacre of 20 women and children on 2 April 1999 in the basement of a house in the Milosa Gilica Street in Djakovica. Parashumti didn't witness the crime, but the prosecution called him to confirm that uniformed Serbian policemen took part in the attack against civilians in that part of Djakovica. Djordjevic was the perpetrators' superior, because he was the chief of the Public Security Department.
The witness said that after midnight on 2 April 1999 he heard some noise outside of his parents' house in the Milosa Gilica Street. The witness heard shots and children's screams from the direction of a neighboring property. Parashumti went up to the roof of his house; from there he observed what was going on. He wanted to see what way was best to flee. As Parashumti contends, there were Serbian police officers all over the village: he saw 12 of them in his own yard and some 50 of them along the street. They were setting houses on fire, the witness said, ordering each other 'Go left, go right' or 'Search this house'.
Soon afterwards, Parashumti fled to a neighbor's house and then he and his family joined a column heading towards Albania. When they crossed the border, they learned that 20 Albanian women and children were killed in the basement of a house in the Milosa Gilica Street. Hani Hoxha has recently testified at the Vlastimir Djordjevic trial: his wife and two daughters were killed in that massacre. Dren Çaka, the only survivor of the massacre, is on the witness list.
After prosecutor Gopalan showed the witness a photo panel with different uniforms, the witness identified the blue camouflage uniforms as those worn by the attackers. The witness believes they were worn by police officers because he saw some of them getting off a blue jeep.
In the cross-examination, the defense counsel didn't contest any of claims from the witness's examination-in chief and the two statements he had given to the OTP investigators in 2000 and 2002. Defense counsel Djurdjic asked Parashumti to identify the ownership of more than a dozen houses in the neighborhood where the crime was perpetrated, tried to establish how high the walls around them were and the size of the plots they were built on. Having pursued the line of questioning about land survey and architectural issues for one hour, Djurdjic didn't follow up with any suggestions or questions which might have shown the purpose of the questions.
[IMAGE]4161[/IMAGE]As the hearing today drew to a close, Kosovo Albanian Beqir Krasniqi began his testimony. Krasniqi survived the execution of more than 100 men in the Kosovo village of Pusto Selo.s