Home
PARAMILITARIES WERE PART OF POLICE
At the beginning of his third testimony before the Tribunal in The Hague, General Aleksandar Vasiljevic says that paramilitary groups responsible for the crimes against Kosovo Albanians in 1999 were operating as part of the MUP. According to Vasiljevic, the accused Vlastimir Djordjevic ordered the deployment of paramilitary troops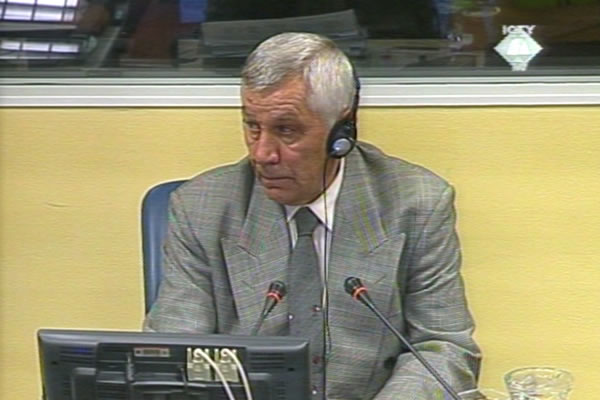 Aleksandar Vasiljević, svjedok na suđenju Vlastimiru Đorđeviću
General Aleksandar Vasiljevic began his evidence at the trial of the former chief of the Serbian MUP Public Security Department, Vlastimir Djordjevic. In April 1999, retired general Vasiljevic was reactivated and appointed deputy chief of the VJ Security Administration. Vasiljevic has already given evidence on the events on Kosovo in 1999 at the trial of Slobodan Milosevic and the six Serbian officials charged with crimes against Albanian civilians. Vasiljevic again blamed the Kosovo crimes on the police.
On 8 May 1999 Vasiljevic received a report from the Pristina Crops security on 'the murders, looting and rapes against Kosovo Albanians' and activities of the paramilitary units. He learned that the Scorpions were operating under the command of the Serbian MUP Special Anti-Terrorist Unit; they killed 12 Albanian women and children in the village of Podujevo. As far as Vasiljevic knew, members of Arkan's paramilitary group carried MUP Id cards when they arrived in Kosovo.
Vasiljevic went on to talk about the meeting of the military and police leaders with the Yugoslav president Slobodan Milosevic on 17 May 1999. At the meeting, VJ and MUP representatives quarreled over who had committed more crimes, the army or the police. According to the notes Vasiljevic made at the meeting, Rade Markovic, chief of the MUP State Security Department, laid the blame for the murders, looting and other crimes mostly on the volunteers, noting that they were 'an unavoidable evil of every war'. General Nebojsa Pavkovic said the Scorpions had been sent to Kosovo on the orders of the accused Djordjevic. Milosevic then ordered Markovic to tell Vlastimir Djordjevic and the interior minister Vlajko Stojiljkovic that 'they have no reason to protect paramilitary units'. As he recounted today, Vasiljevic 'realized that Vlajko [Stojiljkovic], Obrad [Stevanovic] and Rodja [Djordjevic] were responsible for the deployment of the MUP on Kosovo'.
General Vasiljevic spoke about the structure of the Joint Command of the MUP and VJ that functioned in Kosovo from 1998. Vasiljevic learned of its existence on 1 June 1999 during his seven-day trip to Kosovo where he was investigating crimes. Aleksandar Vasiljevic's evidence will last until the end of this working week.