Home
SACIRBEGOVIC: PALE ACTED AS BELGRADE'S AGENTS
Former BH ambassador to the UN Muhamed Sacirbegovic (Sacirbey) has said again that the crimes in BH were perpetrated by the FRY with the help of its 'agents, Serbs from Pale'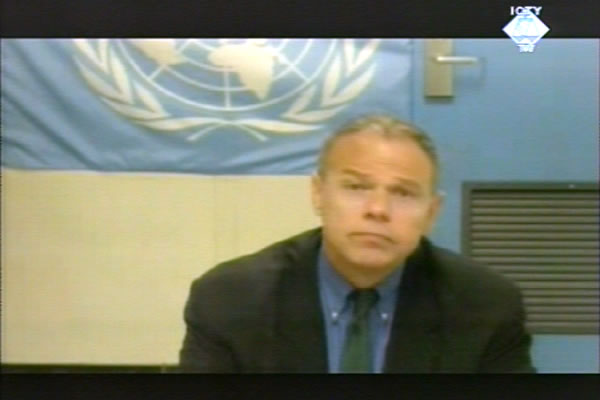 Muhamed Šaćirbegović svjedoči video linkom na suđenju Momčilu Perišiću
The final, fifth day of the examination-in chief of former BH minister to the UN Muhamed Sacirbegovic (Sacirbey) at the trial of former chief of the VJ General Staff Momcilo Perisic went on for the most part in closed session. In the hearing open to the public Sacirbegovic spoke about the activities of the UN Security Council and the BH mission following the fall of the safe havens of Srebrenica and Zepa in July 1995.
In July 1995 the BH mission informed the Security Council that Zepa was 'under a direct attack by the Serbian forces', which meant 'the FRY and its Serb agents from Pale'. In the words of the witness, President Izetbegovic sent a delegation to Zepa to meet with Ratko Mladic and to agree about the evacuation. Although the Serbs told the International Red Cross that the members of the government delegation had fled the area, they were not seen again, the witness claimed.
As in the previous days, the prosecution showed the witness a series of UN Security Councils' resolutions calling on the states of the former Yugoslavia and on the Bosnian Serbs in particular to 'refrain from destroying or hiding evidence' of the crimes in BH. According to Sacirbegovic, the Security Council had information to that effect, particularly in the case of 'removal of bodies from mass graves'.
Speaking of the Dayton peace talks, Sacirbegovic, who was on the Bosnian delegation, said that Slobodan Milosevic told the Bosnian delegation through Richard Holbrooke that he 'wants to talk about the immunity or amnesty for crimes perpetrated in BH during the war'. The witness refused to do so and the subject was 'dropped from the agenda some days later, after the Tribunal intervened'. During the peace negotiations in Dayton the Tribunal issued three indictments to remind the international community and the negotiators of its existence, although it was not represented in the peace talks.
As the examination-in chief drew to a close, the prosecution showed a letter Vladislav Jovanovic, chargé d'affaires in the FRY mission to the UN, sent on 18 December 1995 to the head of the Russian mission, Sergei Lavrov. The letter claims that after the Serbian troops entered Srebrenica, a conflict broke out between 'the Muslim soldiers who wanted to surrender and those who wanted to keep on fighting'; in that conflict they 'killed each other en masse'. This situation, Jovanovic contended in his letter, was 'abused by the Bosnian Muslim government to continue its propaganda campaign about purported mass murders and disappearances of people from that area'. Sacirbegovic said that 'such claims were bandied about' in August and September 1995, but in Dayton Milosevic was 'not inclined to think in that way'.
The cross-examination of the former BH ambassador and foreign minister will start on Monday, 29 June 2009.