Home
(IM)PROPER CONDUCT OF THE PROSECUTION
At the beginning of the cross-examination, Momcilo Perisic's defense counsel suggested that in the proofing session in 2004 the prosecution tried to 'direct the answers of witness Muhamed Sacirbegovic to get the evidence it wanted to hear'. What the prosecution 'wanted to hear' is that the VJ was connected with crimes perpetrated against Bosnian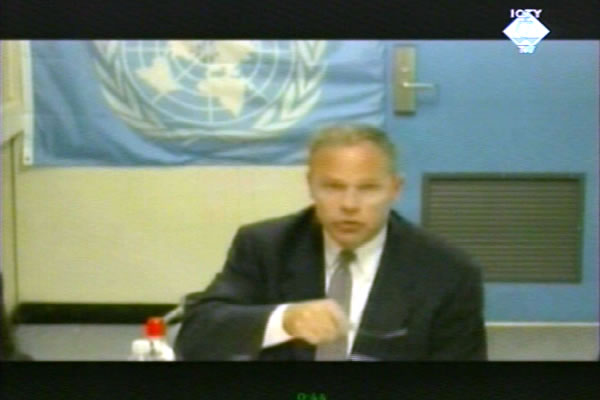 Muhamed Šaćirbegović svjedoči video linkom na suđenju Momčilu Perišiću
During a one-week break in the trial of former chief of VJ General Staff Momcilo Perisic the judges, the prosecution and the defense counsel visited Sarajevo, Srebrenica and Zagreb, listed as the scenes of crimes in the indictment against him. Today the trial resumed with the cross-examination of former BH ambassador to the UN Muhamed Sacirbegovic. The witness is testifying from the UN headquarters in New York via video link.
The defense counsel focused in the first part of his examination on the witness's CV, in particular his career in investment banking and finance. After he asked Sacirbegovic about the difficulties he had opening an account for the BH diplomatic mission in the US, the hearing continued in closed session. Sacirbegovic has been subjected to extradition proceedings in the United States in connection with an allegation of abuse of office that was alleged in Bosnia-Herzegovina.
In the remaining part of the hearing, the defense counsel brought up the 'improper conduct' of prosecutor Geoffrey Nice during Sacirbegovic's proofing in 2004. The former BH ambassador was supposed to give evidence in the case of Slobodan Milosevic.
Based on the transcripts of Nice's proofing of the witness the defense received from the prosecution, the defense counsel was trying to prove that the prosecution had tried to 'direct the witness's answers in order to get the evidence it wanted to hear'. Among other things the prosecution wanted to obtain evidence 'linking the Yugoslav Army' with the crimes committed against Bosnian Muslims. As defense counsel Guy Smith noted, this is the 'central issue' at the trial of General Perisic. The former chief of the VJ General Staff is charged with providing logistic, material, personnel and other support to the Serb forces in Bosnia and Croatia, contributing to the crimes they committed in Sarajevo, Srebrenica and Zagreb.
Except for a few sentences confirming that Nice informed him about the prosecution's views, Sacirbegovic didn't get the chance to reply to the defense allegations. As the defense counsel noted, 'proofing the witness influences the independence of his evidence'; if that is the case, the 'prosecution should be ashamed' and 'the Trial Chamber should take into consideration something like that', defense counsel said. After the Trial Chamber's decision, defense counsel announced he will file a request to continue the cross-examination about the 'improper conduct of the prosecution'. As the defense counsel indicated, he would show a video recording of the controversial proofing session.
Muhamed Sacirbegovic's cross-examination will continue tomorrow afternoon.