Home
BELGRADE'S 'WAR FAVORS' TO BOSNIAN SERBS
Through the evidence of Muhamed Sacirbegovic, former BH ambassador to the UN, the prosecution is trying to prove that not only was Belgrade informed of the crimes perpetrated in BH by the Serb forces, but it helped them by 'supplying arms, military equipment and services to the Bosnian Serbs'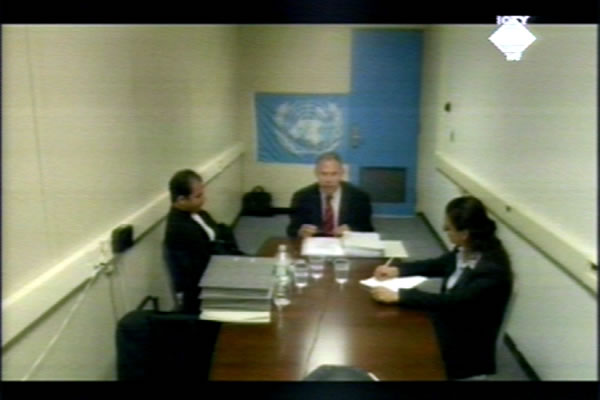 Muhamed Šaćirbegović svjedoči video linkom na suđenju Momčilu Perišiću
As Muhamed Sacirbegovic, former BH ambassador to the UN, continued his evidence today, the prosecution tendered into evidence a new set of UN Security Council's resolutions and a series of reports drafted by the special human rights rapporteur for the former Yugoslavia Tadeusz Mazowiecki, The documents, according to the prosecution, confirm that not only were the FRY authorities and former chief of the VJ General Staff Momcilo Perisic informed of the crimes perpetrated by the Serb troops in BH, but that they contributed to them by supplying 'arms, military equipment and services to Bosnian Serbs'.
As Sacirbegovic continued the second day of his testimony he repeated several times that the UN resolutions and the reports drafted by the special human rights rapporteur were available to 'all member states including the FRY'. Mazowiecki's reports, the witness said, 'were more comprehensive than the media reports' speaking of 'the evil inflicted on the BH population' – murder, rape, forcible deportation, restricting the freedom of movement and the right to medicine, food and water, destruction of religious and cultural monuments, punishment and intimidation of the civilian population to make them abandon their homes. The crimes, Sacirbegovic noted, were qualified as ethnic cleansing and breaches of the Geneva conventions. As Mazowiecki put it, 'ethnic cleansing was the objective and not a consequence of the war' in BH. Sacirbegovic believed that Belgrade 'was reading both the Security Council resolutions and reports' corroborating it with the claim that FRY representatives responded to them, first orally and then in writing.
Security Council Resolution 780 ordering the establishment of an Expert Commission to investigate specific crimes in the former Yugoslavia, Resolution 827 establishing the Tribunal and a series of other UN Security Council resolutions were tendered into evidence today; as the witness put it, the aim of those resolutions was to 'increase the pressure on the FRY to stop providing direct and indirect support to the Bosnian Serbs'. Resolution 819 of 16 April 1993 is particularly important: in it the Security Council 'urged the FRY to immediately stop supplying weapons, military equipment and services to the Bosnian Serb paramilitary units in BH'. This resolution, the witness clarified, was issued after the International Court of Justice had issued a temporary order to the FRY to 'undertake immediate measures to prevent the crime of genocide'.
The examination-in chief of the witness today and yesterday was marked by frequent interruptions and objections by General Perisic's defense counsel Guy Smith, who objected not only to the prosecution's questions, claiming they were 'leading and imprecise' but also to the witness's answers which were, as he put it, 'irrelevant'.
Muhamed Sacirbegovic's evidence continues tomorrow afternoon.