Home
SACIRBEGOVIC: UN SELF-PROTECTION FORCE
Bosnian diplomat Muhamed Sacirbegovic has described how UNPROFOR 'lost its power to pursue its mandate'. The self-defense of the peacekeeping troops became more important than protecting civilians and providing humanitarian aid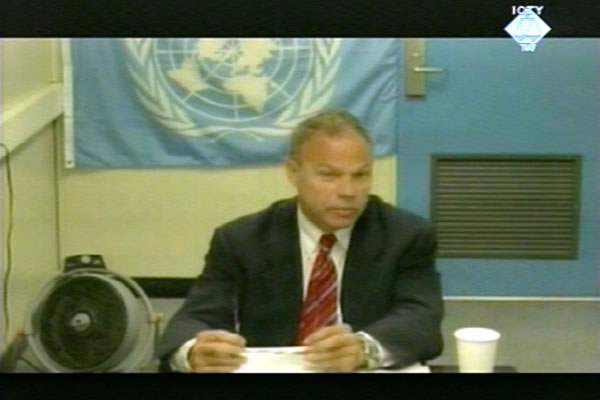 Muhamed Šaćirbegović svjedoči video linkom na suđenju Momčilu Perišiću
At the trial of former chief of the VJ General Staff Momcilo Perisic, former BH ambassador to the UN Muhamed Sacirbegovic was cross-examined by Perisic's defense. He confirmed that in late June 1995 he was 'not happy with the way UNPROFOR pursued its mandate'. At that time, Sacirbegovic had said that the 'UNPROFOR presence in Bosnia is in the interest of various Western countries and not in the interest of the civilians and the Bosnian government'.
As Sacirbegovic noted today in an effort to explain what he'd meant, UNPROFOR 'lost the power to pursue its mandate'. The peacekeeping troops found themselves in danger, the witness said, and their self-defense became a priority instead of protecting the civilian population and providing humanitarian aid.
General Perisic's defense counsel used some of his cross-examination to show that Sacirbegovic 'manipulated not only words but also facts'. The defense first quoted from a speech on 4 June 1992 where Sacirbegovic said, 'diplomacy opens up a vast area for manipulating words'. The defense counsel then went on to show Sacirbegovic an editorial published in the
New York Times
in December 1995. In an interview with the prosecutor, Sacirbegovic claimed that the article had been influenced by him. As the defense alleged, Sacirbegovic intended to 'manipulate the world opinion' through the
New York Times
editorial to harm Swedish diplomat Carl Bildt'.
Sacirbegovic said he 'was upset about the way Bildt solved things, particularly in the case of the betrayal of Srebrenica'; his goal was to 'spread the truth about Srebrenica'. Sacirbegovic 'was concerned that the Tribunal would in a way set Srebrenica aside, letting the perpetrators go unpunished'.
As the hearing today drew to a close, the defense counsel tried to discredit the witness by claiming that in 1980 and in 2000 he was accused in New Orleans for 'cheating in gambling'. Sacirbegovic replied that he was 'arrested several times while he was at the university' claiming he couldn't remember why. The second arrest, Sacirbegovic explained, was 'an incident orchestrated either by the police or my enemies". "I was not involved in anything illegal', Sacirbegovic said.
Muhamed Sacirbegovic's evidence continues on Thursday.