Home
'FROM ONE STATE TO ANOTHER' OR 'FROM ONE PLACE TO ANOTHER'
At the trial of General Vlastimir Djordjevic, British forensic anthropologist Jon Sterenberg has given evidence about the role of the International Commission on Missing Persons in the exhumations of the remains of Kosovo Albanians killed in Kosovo and buried at various locations in Serbia. The defense has criticized the witness for saying the bodies were transported from 'one state to another state'; in his view, it would be more appropriate to say from 'one place to another place' within the same state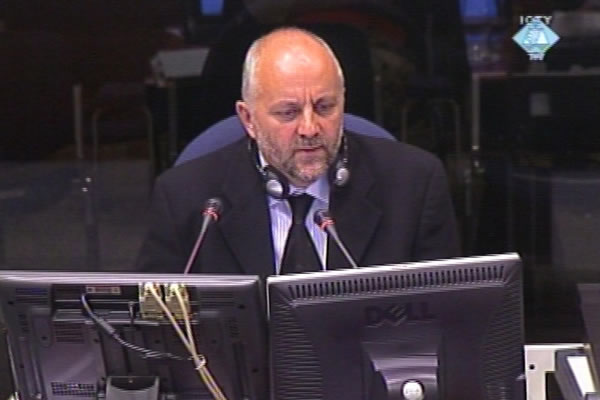 Jon Sterenberg, svjedok na suđenju Vlastimiru Đorđeviću
The exhumation and identification of remains discovered in the mass graves in Batajnica was carried out by the Belgrade Forensic Medicine Institute and a team from the International Commission on Missing Persons (ICMP). British forensic anthropologist Jon Sterenberg testified today at the trial of the former chief of Serbian MUP Public Security Department. He was the head of the ICMP Exhumation and Research Division from June to December 2002. Djordjevic is on trial for the Kosovo crimes.
In addition to Batajnica, the international forensic experts took part in the exhumations and identification of Kosovo Albanians in the graves in the village of Petrovo Selo and at a site near the Perucac lake. The witness confirmed the authenticity of the ICMP reports on all those locations, and they were admitted into evidence today as prosecution exhibits.
A summary report on the exhumations in Serbia, drafted by Sterenberg in 2005 for the Kosovo trials before the Tribunal, was also tendered into evidence. In 2006, Sterenberg gave a statement to the OTP investigators and testified in the Milutinovic et al. case, saying that there were several layers of bodies in the Batajnica graves. This means they were not buried at the same time. Sterenberg also said that some bodies had blindfolds and had remnants of wire used to bind them. The transcripts from that evidence and the witness's statement to the OTP investigators were also tendered into evidence.
Djordjevic is charged with murder, deportation and expulsion of Kosovo Albanians during the NATO campaign in 1999. Djordjevic faces charges of covering up of those crimes by transferring bodies from Kosovo to several locations in Serbia. In his cross-examination, Djordjevic's defense counsel Dragoljub Djordjevic asked the witness a number of expert questions. He also criticized the witness for saying the bodies were transferred from 'one state to another'; in his opinion, it would be more appropriate to say 'from one place to another' within the same state, Serbia. In his reply, Sterenberg noted that he saw no difference in the language.
The trial of General Djordjevic continues on Monday.