Home
FLEEING FOR THEIR LIVES FROM KOSOVO
Testifying under the pseudonym K-81 at the trial of General Vlastimir Djordjevic a Kosovo Albanian from the village of Vladovo near Gnjilane described how he fled Kosovo for Serbia with his family. The witness then left for Macedonia in fear of the army and the police that killed and abused many of his compatriots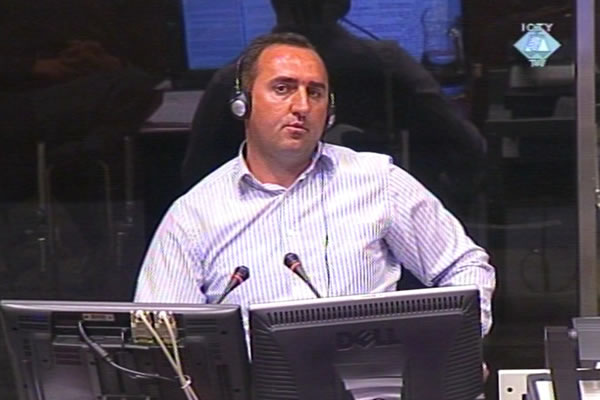 K-81, zaštićeni svjedok na suđenju Vlastimiru Đorđeviću
At the trial of former chief of the Serbian MUP Public Security Department on charges of persecution, murder and deportation of Kosovo Albanians in 1999, the prosecution continues calling evidence about the events in the Gnjilane municipality. A resident of the village of Vladovo testified with protective measures as Witness K-81. The witness had already given evidence at the trial of the six former Serbian officials for Kosovo crimes. The transcript of the witness's evidence at that trial and the statement the witness gave to the OTP investigators in May 1999 were tendered into evidence today.
Soldiers and armed local Serbian civilians entered the village of Vladovo on 25 March 1999; they established checkpoints in the village and started provoking Albanian villagers. Fearing for their safety, the witness and his family sought shelter in the hills. During the next two weeks the witness watched through binoculars what was going on in the villages of Vladovo, Vlastica and Zegra from his hiding place. The soldiers and police would enter the villages together with civilians, abuse the remaining local civilians, loot and burn down houses, the witness contended. The worst incident the witness saw was in the village of Vlastica where six elderly civilians were killed near the village mosque. The whole village, including the mosque, was then burned down.
Deciding he and his family should flee for their lives, as he put it, the witness took them across the border, to the Serbian town of Presevo where he had relatives. However, the witness had to leave soon because Albanians refugees were often abused. The witness and his family joined the convoy that was directed by soldiers and policemen towards Macedonia. Before they crossed the border, the police officers took the refugees' personal documents, passports and other papers from everybody. The witness and his family left for Switzerland. Ten months later the witness returned to his native village where he rebuilt his house; it had been burned to the ground.
In an effort to challenge the witness's claim that the people's documents were seized at the border, Vlastimir Djordjevic's defense counsel in his cross-examination asked the witness how he could go to Switzerland if his passport had been taken. At the time, the refugees could travel even without documents, the witness replied. The trip was organized, the witness went on to say, by 'a foreign organization' that transported the Albanian refugees who had relatives in that country.
Defense counsel Djurdjic also objected to the fact that today the witness identified police officers as persons who took part in the crimes much more often that he had done in his statement to the OTP investigators. 'To be honest, it would take me seven days to tell you what happened and the investigators asked me to be as brief as possible', the witness explained.