Home
UNPROFOR: SHIELD OR HOSTAGE
British general Rupert Smith has said that UNPROFOR in BH was a shield 'for the defenders in the enclaves providing support for people by delivering humanitarian aid'. At the same time however, members of the UN Protection Force were hostages of Bosnian Serbs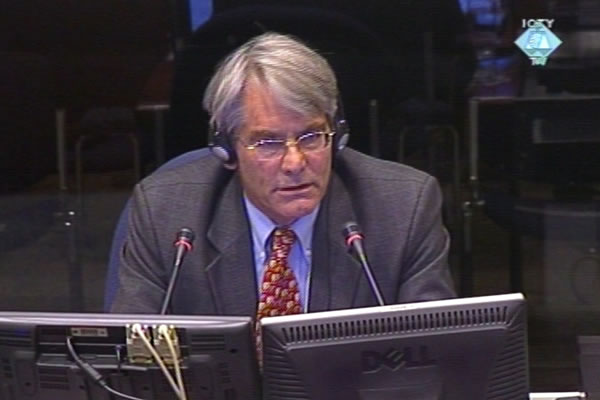 Rupert Smith, svjedok na suđenju Momčilu Perišiću
The trial of the former chief of the VJ General Staff Momcilo Perisic continued with the evidence of British general Rupert Smith, the last commander of UNPROFOR in BH. General Smith has already given evidence at the trials of Slobodan Milosevic, Dragomir Milosevic and the seven Bosnian Serb military and police officers charged with crimes in Srebrenica. The transcripts of his evidence were admitted as prosecution exhibits and the prosecution read a summary of Smith's statement.
Smith was appointed commander of the UN Protection Force in January 1995 and remained in that post until mid-December 1995. Smith was briefed daily about the events in BH and had regular meetings and telephone conversations with military and political leaders of the Bosnian Muslims, Serbs and FRY: Izetbegovic, Mladic, Karadzic and Milosevic.
In his brief examination-in chief, the general recounted a meeting held on 15 July 1995 in Belgrade he attended together with Milosevic, Mladic, Carl Bildt, Thorvald Stoltenber and General Bertrand De Lapresle. Smith got the impression that 'Milosevic was Mladic's superior and obviously had him in his power'. Mladic's presence at the meeting however, the witness pointed, 'had to remain a secret' because 'he was known to be the commander of the Serb forces in BH' and the meeting was held immediately after the fall of Srebrenica.
In his cross-examination General Smith specified that the 'meeting had to do with the withdrawal of the Dutch Battalion from Srebrenica' which is why he was invited to attend it.
In the statement he gave to the OTP investigators, the British general says that after the Markale town market explosion on 28 August 1995 he got in touch with General Mladic who denied that the mortar shells were fired from the VRS positions. An UNPROFOR expert team established that the shells were fired from positions held by the VRS Sarajevo-Romanija Corps. After the Markale town market massacre, when at least 35 persons were killed and 78 were injured, General Smith called in NATO air strikes against the Serb positions.
The witness also explained why he had described the situation UNPROFOR faced in BH as a 'shield-hostage dilemma'. According to Smith, 'the presence of UNPROFOR in eastern enclaves was a shield for the defenders in the enclaves'. 'We provided support to those people, delivering humanitarian aid, while at the same time we were held hostage by the Bosnian Serbs', Smith said.
The trial of general Perisic, charged as the chief of the VJ General Staff with providing logistic, personnel, financial and other support to the Serb troops in Bosnia and Croatia continues tomorrow with the evidence of the next prosecution witness.