Home
SERVICE IN A FOREIGN ARMY
VJ colonel Rade Raseta claims that he was transferred to the SVK on the orders of Momcilo Perisic, chief of the VJ General Staff. The status and benefits of Serbian officers serving in Krajina were regulated through the 40th Personnel Center of the VJ General Staff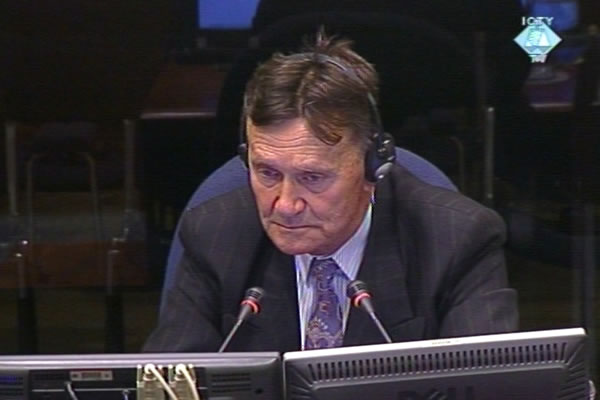 Rade Rašeta, svjedok na suđenju Momčilu Perišiću
Retired VJ colonel Rade Raseta spent one and a half years on various duties in the security department of the SVK General Staff. In late 1994 Raseta was appointed chief of security. Raseta was sent to Knin on the orders of Momcilo Perisic, chief of the VJ General Staff. Perisic is on trial for providing logistics, material and other support to Serb forces in Croatia. According to the indictment, he thus contributed to the rocket attack on Zagreb on 2 and 3 May 1995.
The VJ officers learned the details about the transfer to 'temporary reassignment to the SVK' from the chief of the 40th Personnel Center who told them that the center would deal with all the issues pertaining to their status, including their accelerated pension plans and 15 percent salary increases. The prosecution showed Raseta an order that might indicate that if VJ officers deserted from the SVK or refused to go to Krajina, a procedure for the termination of their professional military service would be instituted against them.
As the witness confirmed, the key posts in the SVK Main Staff were held by VJ officers transferred through the 40th Personnel Center: SVK commander Milan Celeketic, who was succeeded by Mile Mrksic, and chiefs of Main Staff Borislav Djukic and Dusan Loncar. In addition to personnel support, Raseta noted, the VJ provided the SVK with logistics aid: fuel, quartermaster supplies, and vehicle spare parts. 'Weapons and ammunition', Raseta said, "were sent less often".
Raseta confirmed that he had sent work reports to his superiors in the SVK and also to the Security Directorate in the VJ General Staff headed by General Aleksandar Dimitrijevic. However, Raseta made it clear that he 'was under no obligation to send reports'; he did it because he 'found it appropriate'. Reports were also 'regularly sent' from the SVK Main Staff to General Momcilo Perisic and Serbian president Slobodan Milosevic, Raseta explained. In the witness's words, the fact that the reports were sent to Milosevic was 'unusual', but he thought it 'completely logical' that they were sent to the office of the chief of the VJ General Staff.
The prosecutor showed Raseta a series of documents, including an order issued by General Celeketic to open artillery fire against pre-set targets and urban areas and to fire the Orkan, a multiple rocket launcher system, on Croatian towns. As alleged in the indictment, General Perisic 'had reasons to be aware that his subordinates took part in perpetrating crimes in Zagreb' but failed to take measures to launch an investigation and punish the perpetrators.
As the hearing today drew to a close, the defense started cross-examining Colonel Raseta. His cross-examination will continue on Monday.