Home
MILITARY GUEST WORKERS
In his evidence at the trial of General Momcilo Perisic, prosecution witness Miodrag Starcevic has spoken about the establishment of the 30th and 40th Personnel Centers and their operation; they regulated the status of VJ officers deployed in the Serb armies in Bosnia and Croatia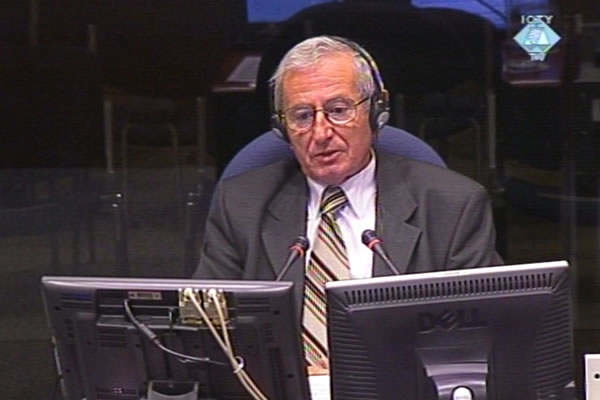 Miodrag Starčević, svjedok na suđenju Momčilu Perišiću
According to the indictment, former chief of the VJ General Staff Momcilo Perisic was responsible for the establishment and organization of two personnel centers whose aim was to 'cover up the fact that VJ officers were being sent to the VRS and the SVK'. Miodrag Starcevic, former chief of the legal department in the VJ General Staff, testified today about the legislation related to the establishment of those personnel centers.
Starcevic confirmed that the 30th and the 40th Personnel Centers were established by the order to reorganize the VJ issued in November 1993 and signed by the then chief of VJ General Staff, Momcilo Perisic. The document states that persons appointed to personnel centers were legally members of the VJ. Both Personnel Centers, the 30th with the code VP 3001 and the 40th with the code VP 4001, were located in Belgrade.
The General Principles Governing the Work of Personnel Centers were issued at the same time as the order to reorganize the VJ. The General Principles defined their operation in peacetime. Both documents, the witness maintained, were brought in line with the procedure set out in the Law on the Army.
The same law contains provisions on the remuneration for service, stipulating when VJ personnel could be transferred to serve abroad. According to Starcevic, it was possible only in three cases – when professional soldier served in Yugoslav diplomatic and consular missions, when they served under international agreements and when they were sent abroad for training.
The prosecution showed Starcevic several orders for the transfer of Yugoslav officers to the 30th or 40th Personnel Center, to highlight the connection between the VJ, VRS and the SVK. In one of the orders signed by General Perisic a VJ lieutenant is transferred from the 40th to the 30th Personnel Center; the indictment alleges this means he was transferred from the SVK to the VRS. In another case, the court ruled that a VJ officer was posted to combat zone near Sarajevo through the 30th Personnel Center and was therefore entitled to compensation for physical suffering.
When the prosecution asked Starcevic if there existed 'any legal provisions allowing General Perisic to transfer a VJ officer to the SVK, for example' the witness replied that as far as he knew, there were no such provisions. Starcevic gave the same answer when he was asked if there were any provisions allowing Yugoslav officers to be transferred to another country and to take up duty there.
General Perisic, who served as the chief of the VJ General Staff, is charged with providing personnel, material, logistic and other support to the VRS and SVK. The prosecution alleges that Perisic thus 'significantly' contributed to the crimes committed in Sarajevo, Zagreb and Srebrenica.